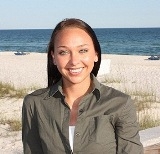 Pensacola, FL, August 22, 2011 --(
PR.com
)-- As the newest Realtor living, playing, and working on Perdido Key, FL, Cassandra Rowland is looking forward to putting a fresh start on Perdido Key's real estate needs. Her focus is dedicated to offering superior and advanced technological real estate services to her clients while maintaining a strong commitment to old-fashioned ethics, professionalism and personalized attention. Cassandra has a daily blog that is free to subscribe to (http://www.lifeinperdidokey.com) that focuses on Area Events, Fun Facts on Perdido Key, Featured Property of the Week, helpful Real Estate related articles and overall everyday life that is experienced on The Key. Cassandra also posts a website (http://www.cassandrarowland.com) where one can search for properties, view an Area Event Calendar, and utilize helpful links to Perdido Key area info and resources.
As a South Carolina native now Perdido Key resident, Cassandra received her Bachelors of Science from University of Alabama in Birmingham. For her, life in Perdido Key includes the Orange Beach Run Club, Freedom Boat Club, numerous concerts and festivals, shopping, and of course soaking up some sun on Perdido Key's pristine un-crowded white sand beaches and emerald Gulf Coast water. Whether it's buying or selling a vacation home, primary residence, investment opportunity, or just need friendly advice, Cassandra is looking forward to help. As Cassandra constantly states, "I would love to help you own a piece of paradise and now is certainly the time to buy."
Prudential Florida Realty has an office located directly on Perdido Key at 14000 Perdido Key Drive, Perdido Key, FL 32507.
More About Prudential Florida Realty: Prudential Florida Realty has over 40 locations and more than 1,700 real estate sales associates serving 18 counties throughout Florida. Prudential Florida Realty is a full-service residential and commercial real estate company that offers consumers professional assistance with purchases, sales, seasonal rentals, property management, corporate relocations, referral services, mortgage, title and insurance services. The company ranked #22 in number of transactions and to # 30 in sales volume in 2010, according to the 2011 RISMedia's 23rd Annual Power Broker Report. Prudential Florida Realty is the #1 Prudential affiliate in Florida and #5 in North America. Prudential Real estate boasts the highest average sales price of any nationwide real estate firm.
###