Ladies, Raise Your Purses...
Introducing 'The Little hook™' — the hip new fashion accessory for Hollywood stars and their purse. "When it comes to a woman's purse…give her a raise…"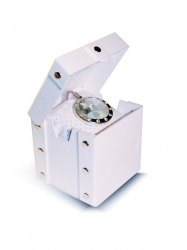 Beverly Hills, CA, April 03, 2007 --(
PR.com
)-- Any successful and stylish woman in LA today clearly knows that "when it comes to a woman's purse…truly give a woman a raise!" That's exactly how they got to the top. In fashion this year, the essential fashion accessory for a woman's purse is The Little hook by Jasmine Boussem. The Little hook has garnered an instant Hollywood following with celebrities and LA women alike, raising their purses with Boussem's hook when they are seen out.
Thanks to Boussem, today's sophisticated woman no longer has to rest her elegant purse on the floor or a restaurant chair while dining out at her favorite social hot spot. She can now enjoy her night out without worrying about her purse. Women who are fans of The Little hook the world over, unanimously agree that their purse is worthy of receiving a raise too.
The Little hook™ is a small, and beautifully made fashion accessory that easily slips onto almost any tabletop to provide an innovative portable hook on which women can stylishly and safely hang their latest designer bags and favorite purses on with confidence. Elegantly crafted to support any purse, the fun and stylish 'little hook™" comes in a range of designs and colors and can be purchased at www.thelittlehook.com
The Little hook™ is the brainchild of marketing extraordinaire Jasmine Boussem, who revived the concept of an elegant purse holder for ladies from an exquisite 1920s vintage fashion accessory that she happened upon when traveling. Boussem explains:
"I once saw a very classy lady carrying a vintage purse hook in a fancy restaurant and was extremely fascinated by her original purse holder. The stylish way she hung her purse, made me think she was a movie star of her era. She told me that they were all the rave during the golden era of jazz in Paris in the 1940's and that even the Queen of England had one," said Jasmine Boussem, "The Little Hook™" founder.
Boussem set out to make her own and her mix of innovation, sense of style and a strong practical streak paid off in the design. The Little hook™ acknowledges that women all over the world spend hundreds, even thousands of dollars on a single handbag but they can't find a practical place to put it while dining out, sipping a Cosmo or having coffee with her girlfriends.
The little hook™ is a very practical solution for stylish purse etiquette. It weighs less than two ounces and can carry purses up to 10 pounds and works with most tables. Beautifully packaged in an elegant gift box, The "Little Hook™" also comes with its own velvet carry pouch. It is currently sold on Boussem's website and retails for $29.99. www.thelittlehook.com
In addition to Boussem's classic collection, The Little Hook™ is jointly working with charity organizations to create a benefit collection that raises funds. Among them, the foundation for breast cancer and the Make a wish foundation, promising that now Hollywood celebrities and sophisticated women worldwide can join with Jasmine Boussem and truly raise their purses for a good cause.
For additional information or to purchase The Little Hook™, visit: www.thelittlehook.com
###
Contact
The Little hook, Inc.
Jessica Bernard
323.908.4178
www.thelittlehook.com

Contact