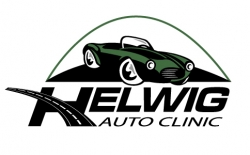 Mount Horeb, WI, August 24, 2011 --(
PR.com
)-- Helwig Auto Clinic, the leading auto maintenance and repair shop in south-central Wisconsin is delighted to celebrate its 10th successful year in business. A Customer Appreciation Day is scheduled on Saturday, September 17th from 11 am to 3 pm. The event will include food from the local community in Mount Horeb, a bounce castle for the kids to enjoy, music by local musicians and an atmosphere of fun and festivity. Special offers, deals and sales will be offered through the year to make it a truly memorable 10th anniversary celebration.
Steve Helwig, owner/manager of Helwig Auto Clinic shares the excitement, "Our 10th anniversary celebration is a moment of great joy and pride for the entire team at Helwig Auto. We started with a 2 lift facility in September 2001. Today, 10 years later, our current premises boast a capacity of 8 lifts and 12 service bays.
"Yes, we have expanded our facility, our team, our service offerings, partnerships and of course, our clientele. What has not changed, and never will, is our steadfast commitment to customer service excellence; our honesty, integrity and desire to treat people fairly. This work ethic and philosophy has brought us thus far, and I am confident it will carry us forth in the years to come. Our community in and around Mount Horeb places their utmost trust in the quality service we provide, and that to us is the most valuable asset. In this first decade and for many more to come, we continue to strive towards maintaining and enhancing that trust," says Steve.
Keeping customers informed and on the road is taken very seriously at Helwig Auto. For example, a simple oil change will include full service inspections. At each service, the technicians run a Battery Test. The results are documented and shared for future reference. Every 6th oil change is offered free to customers. "Prioritizing repairs and consulting with the owners to allow them to make the financial decision is not only how we do business, it is also state law!" reminds Steve Helwig.
Helwig Auto is a member of Tread Pros offering Cooper, Continental and General Tires product lines. The company was also named Goodyear G3X Dealer 2009 and offers Goodyear, Dunlop and Kelly Tires.
###
About Helwig Auto Clinic:
Established in September 2001, Helwig Auto Clinic is a full service independent auto, light truck, SUV and hybrid vehicle repair and maintenance facility in Mount Horeb, Wisconsin. The Helwig team of skilled professionals services domestic and import vehicles including cars, light trucks, as well as exotic and classic vehicles in the Mount Horeb, Madison and surrounding south-central Wisconsin area . To learn more about Helwig Auto Clinic, including the 10th Anniversary Celebration special offers, please visit
www.helwigauto.com
. You can also call 608-437-5112.