Southbridge Homeowner Gets Rave Reviews for New Deck and Railing
Late summer into Fall can be a great time to get a deal on a new deck, especially if it is made with the latest weather-resistant materials. Old school of thought was that the wood deck has to be fresh in the spring or winter would take a toll on it. Not so with materials like AZEK, which resist rot, stains, splinters and scratches. A good cleaning and it's ready for that first Memorial Weekend barbecue. Marge Farrand a homeowner in Southbridge loves her new AZEK Deck and Railing!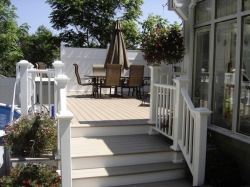 Southbridge, MA, August 27, 2011 --(
PR.com
)-- This is the Time of Year to Save On A New Deck
When Margaret "Marge" Farrand contracted with Mike Loin of Bertin Engineering based in Southbridge, Mass., to build her new deck and railing near her pool, she knew exactly what she wanted: an entertainment space with great looks that requires very little maintenance. She chose AZEK Deck, a solid PVC decking product with stylish railings. "This entire deck system was very easy to install and it will endure our tough winters very well," said Loin.
The product line debuted on the market in 2007, so compared to old timers like wood and even composites which have been around for two decades, it's a relative newcomer. But Farrand could be called a bit of a dare devil when trying new things and she heard that the stains, scratches and mold growth on this newer decking material was minimal. Let her and the 20 guests at her latest pool party be the "Deck Idol" judges. "I love my new deck and railings and everyone at the party we had recently was very impressed," she said. "Many of them commented that they wish AZEK had been available when they built their decks." Farrand said she was also very pleased with the craftsman-like job Loin did installing it and the service provided by Jason Thacker, Purchasing Manager at Howe Lumber, the local lumberyard.
Thacker said Farrand and Loin's reactions to AZEK Deck and AZEK Rail is what they're hearing from many customers. "When contractors find something that works as well as this decking and railing, they buy more," he added. "And that's what makes AZEK such a great product line, the contractor and homeowner are pleased with the results."
Part of the beauty of the AZEK Deck is that it has a natural appearance, like wood but without the splitting, splinters and cracking. And, railings can be the bane of any deck installer's existence if they're difficult to install and that can cost the homeowner in extra labor. If the railings are wood, the homeowner is faced with the need to seal the deck every year in a climate like New England, and the labor on those intricate spindles is intensive.
Loin had been using AZEK for three years, but this was his first time using AZEK Rail. He was pleasantly surprised at how easy the railing system was to install compared to others. And, he was able to provide extra beauty to the deck surface by using a new hidden deck system called CAMO, which provides perfect spacing for the boards and completely hides the deck screws. "The deck looks beautiful and the railing looks like it was custom made," said Loin. "The fast installation meant that Marge could get the most of her summer entertaining."
Thacker said that Farrand is now spreading the word through her church, so they're gearing up for added volume. When you use a solid pvc product like AZEK, you can build your deck now or in the Fall and not have to worry about winter taking a toll on it. "A fresh cleaning in the spring and it's ready for the Memorial Weekend barbecues," said Loin.
To learn more about AZEK Building Products, visit www.azek.com. Or contact Howe Lumber, at 774-452-0675.
###
Contact
AZEK Building Products
Maureen Murray
973-993-1570
www.azek.com

Contact