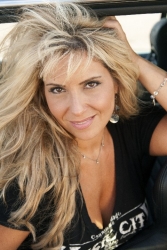 Watertown, TN, August 27, 2011 --(
PR.com
)-- Long Island country recording artist, Lisa Matassa, will descend upon Nashville on August 29, 2011 to film the music video for her much buzzed about debut single, "Me Time," the title track from her EP. "Me Time" is currently spinning on 40 country format radio stations, nationwide (and counting), and landed at #55 on the Billboard Indicator Chart for Monday, August 15, 2011, making Matassa the highest debuting country artist on the Billboard Indicator chart that day.
Now the Long Island bred country crooner is teaming up with music video director, Traci Goudie, to film the music video for her skyrocketing single "Me Time," and the video shoot will take place on August 29th in Watertown, Tennessee. Location information will be provided to media upon request.
Traci Goudie's past music video credits include: Merle Haggard, Patty Griffin, Shawn Colvin, Lynyrd Skynyrd, Keith Anderson and Buddy Miller... to name a few.
"I really wanted to work with Lisa, because I love her unique angle on country music. The fact that she is a Long Islander with a past on the dance pop charts, she took time off and had a family, and now she is back full force as a country artist," states Goudie. "Lisa's take on country [music] is a rocking version of country and her lyrics are great."
In describing her love of Nashville, Matassa expresses, "I am in awe of the talent I hear coming from the various restaurants and bars around Nashville, and each time I am there it feels familiar, just like coming home. I am beyond excited to be filming this video in country music's greatest city. This will definitely be one of the most memorable highlights of my career!"
"Me Time" is the everywoman's anthem, a song that expresses the universal need for some me time that all multi-tasking women face. Women who are mothers, wives and, in modern times, career women, have been attempting to achieve balance and get a little me time for decades. According to director Traci Goudie, the Lisa Matassa "Me Time" music video will be styled and shot to take Matassa from a 1950s disheveled and overburdened housewife, reflecting classic Americana, to a transition with Matassa in modern times donning jeans and a sexy top. Both themes will be seamlessly tied together with the use of a vintage convertible in the music video.
The overall message of the song "Me Time": Women have always done it all and all they just want a little me time.
Lisa Matassa will be available for on set interviews, and the set of the music video will be open to media for behind-the-scenes coverage of a Long Island, New York wife and mom of two who is taking the country music scene by storm and bringing her Long Island brand of country music to Nashville.
About Lisa Matassa
Lisa Matassa is a music pioneer, having brought her own unique brand of country music to the Long Island region with her debut country EP, "Me Time" which was released independently through LMA Productions/It Is What It Is Records. Matassa's first single off her debut EP, Me Time, was released in June 2011, and is spinning on more than thirty country format radio stations across the U.S. in major country radio markets including: New York, California, Tennessee, Texas, Washington, Florida, Ohio, Idaho, Montana, The Carolinas, Utah, New Jersey, Indiana, West Virginia, Vermont, Maryland, Alabama, Kentucky, Oregon, Michigan and New Hampshire.
On Monday, August 15, 2011, Lisa Matassa was the highest debuting country artist on the Billboard Indicator chart with her debut single, "Me Time," landing at #55 on the chart.
"Me Time" is also available for purchase at
www.lisamatassa.com
and available for download at
iTunes
, Amazon MP3, Spotify, MediaNet, eMusic, Zune, Nokia, Shockhound, Napster, iHeartRadio and VerveLife. Visit Lisa Matassa on
Facebook
, MySpace, Reverbnation, Twitter and YouTube.
Lisa Matassa's debut LP, "Sunrise Highway" is due for release this fall 2011. For the latest Lisa Matassa news, visit
www.lisamatassablog.com
.
###
For all media inquiries:
Allison Kugel
Allison Dawn PR
516-942-0264
allisondawnpr@aol.com