Lynch Hummer and Adventure Accessories Announce Hummer Off-Road Challenge to be Held, June 9-10, 2007
Hummer owners prepare for the ride of your lives. This thrill ride begins at 8:00 a.m. Saturday morning, June 9, and continues until the award ceremony on Sunday evening, June 10. Driver & navigator teams from around the country will compete in a series of competitive challenges including: day & night navigation competition, time-speed-distance trials, extraction challenge, sporting clays, and a host of driving skills challenges that are sure to test the limits of both Hummer and driver.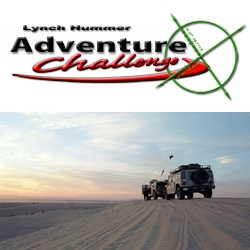 St. Louis, MO, April 06, 2007 --(
PR.com
)-- This June marks the first ever Lynch Hummer Adventure Challenge, in which Hummer owners from all over can test their off-road skills. Each participating team will consist of a driver and a navigator who will work together to complete a series of skills challenges for points. At the end of the weekend, the team with the highest point total will be crowned this year's Hummer Challenge Champion.
The first event will begin Saturday at 8:00 a.m., with a navigation challenge that will lead to the day's next event. Each individual competition will lead directly to the next, which only adds to the excitement and forces teams to manage their time strategically. Teams must decide when and where to stop for food, fuel, and restrooms because Saturday's action doesn't stop until around midnight with the end of the night navigation challenge. As soon as the day is over, teams are free to set up camp or to find a hotel where they can calculate the next day's time-speed-distance rally, maintain their vehicle, or simply rest up for the next day.
Sunday will begin much like Saturday, and continue at the same pace until mid-evening when the final challenge is complete. All teams will converge at the award dinner, where the final scores will be tabulated and winners will be announced. This year's grand prize will be $1,000.00 and there will also be prizes awarded for many of the individual events.
Registration fees are $350 for a driver/navigator team and $50.00 for each additional passenger (maximum 2). Further registration guidelines and more information on the event can be found online at http://www.HummerAdventureChallenge.com or call Lynch Hummer toll free at 1(800)HUMMER-9.
###
Contact
Lynch Hummer
Jim Bushart
636 777 7600
www.lynchhummer.com

Contact