Stick-e Products Debuts Innovative New Yoga and Pilates Fitness Gear
Stick-e Products is introducing a new line up of innovative fitness accessories primarily geared for Yoga and Pilates at the Health and Fitness Business show. Stick-e has revamped the current successful line of Yoga and Pilates accessories and expanded with more innovative products including a Wrist Saver Block, a new Slipless Hot Yoga Towel, a Knee and Wrist Saver and more. Stick-e is poised to capitalize on the growing Yoga trend.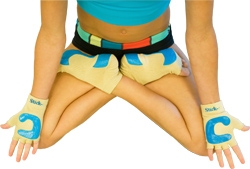 Chicago, IL, September 08, 2011 --(
PR.com
)-- Stick-e® Products LLC is introducing a new line up of innovative fitness accessories primarily geared for Yoga and Pilates at the Health and Fitness Business Show in Las Vegas September 14 -16, 2011. With a recent capital infusion from new business partners, Stick-e® has revamped the current successful line of Yoga and Pilates accessories and expanded it with more innovative products. Stick-e® Products has made an impact on the yoga community by designing products that not only look good but are each designed to provide a more rewarding fitness experience.
Stick-e® Products' original product, Stick-e® Yoga Socks…for that barefoot feeling, earned international acclaim from the sporting goods community when it was selected as a finalist in the ispo BrandNew competition and was featured at ispo Winter '08 in Munich. Stick-e® Products secures its reputation as being an innovator with the following new products.
Capitalizing and expanding on the runaway success of the Stick-e® Wrist Saver®, introduced in 2009, is the new Stick-e® Knee and Wrist Saver®. Stick-e® discovered after introducing this item designed to provide comfort and support to the wrist joint during upper body weight bearing exercises that it could also be worn on a wide variety of body locations for the same purpose. It has now been repackaged with the new Stick-e® logo and includes extension strips to accommodate more body locations and sizes.
Once again, Stick-e® has improved upon a staple in yoga classes, the foam Yoga Block. This generic prop would seemingly have no room for improvement, but Stick-e® has added additional functionality making it a two–in–one product. Combining the traditional foam yoga block with a wrist saving push up device to create the Perfect PlankTM is Stick-e®'s new Wrist Saver® Block. The Stick-e® Wrist Saver® Block is a foam block with an internal handle providing optimal wrist positioning during upper body weight bearing exercises for better strength and superior comfort. The blocks can also be stacked enabling a full range of motion during pushups and tricep dips.
Stick-e® will be entering the Hot Yoga market with its introduction of a non-slip full mat length towel. It will have the only towel on the market with a smooth SliplessTM surface on one side providing superior comfort and grip. This new towel is micro fiber, 68" L x 24" W, and features the popular body alignment lines like their Stick-e® mat. In addition, this towel will come packaged in a drawstring mesh back pack. After a hot yoga class, the user will have a convenient place to carry one's wet towel.
Where uniqueness met versatility in the original Stick-e® Yoga mat with 3 in 1 strap, now the Stick-e® Mat is new and improved. The new version of the Stick-e® Mat is longer at a full 72", thicker at 6mm, and most importantly has a new texture, Stick-e® RidgesTM! RidgesTM, provide a better sliplessTM grip on a wood floor. As the functionality of the original Stick-e® Strap was so beneficial, it has received the moniker, LassoTM Strap and is now also being sold separately. The LassoTM Strap with its adjustable loop enables the user to "Lasso" a rogue foot enabling deeper stretches and more difficult poses. The new Stick-e® Mat with LassoTM Strap continues to feature its body alignment lines and is reversible.
As Stick-e® expands its unique fitness line, it has branched out to licensing complementary products. The first item licensed and distributed by Stick-e® is the newest craze in health clubs around the world, BeamfitTM. Only through Stick-e® can retailers find this product ready for store merchandising. BeamfitTM is the perfect in-home, full body workout that can grow with the user. The BeamfitTM Balance and Exercise Beam with four Workouts is the perfect, no impact, fitness tool for better balance, building core strength, and improving muscle tone. The BeamTM offers endless workout options when used with dumbbells, kettlebells, bands and more.
Bringing these products all together is the new "Live What You Love Yoga Escape with Danielle Campagna" DVD. Stick-e® is introducing this new DVD embodying Stick-e®'s Mantra: "Love it! Live it! Be it!TM". The new DVD is set on a beautiful private estate near a tranquil pool on a sunny summer day. It will whisk the participant away year round to a fantasy world. The DVD features Danielle Campagna, Stick-e®'s primary model, taking the participant through 4 levels of yoga seamlessly suggesting modifications throughout to address individuals' strengths and limitations. Danielle subtly incorporates Stick-e® props throughout the sessions as is appropriate. The last section also provides additional fitness uses for the Stick-e® accessories beyond Yoga.
Stick-e® Products' line of fitness accessories are designed to address the challenges associated with performing Yoga. Yoga's participation rate skyrocketed in 2010, growing 28.1% to 20.2 million participants. Yoga is considered to be the second fastest growing leisure activity next to jogging and running according to the National Sporting Goods Association. Stick-e® is strategically positioned to capitalize on this growing trend.
###
Contact
Stick-e Products LLC
Libby Andrews
708-369-5775
www.stick-e.com
Facebook Fan page: Stick-e
Twitter: StickeSocks

Contact