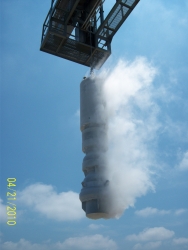 Costa Mesa, CA, September 10, 2011 --(
PR.com
)-- Innovative Pump Upgrade Program Announced
Atlas Copco JC Carter Pumps is introducing a 3rd generation pump upgrade program to its customers, featuring the only 3rd generation SMP cryogenic pump for LNG in the industry.
The 3rd generation design offers customers significant advantages over previous designs. The new pumps have improved Mean Time Between Overhaul (MTBO), the highest proven efficiency, and the best proven Net Positive Suction Head (NPSH) values in the industry.
"We are proud of the 3rd generation design because it makes the pumps easier to maintain and improves their reliability," says Dirk Jan Rott, Integration Manager for the Atlas Copco JC Carter branch office. "The program offers customers improved efficiency and increased output, ultimately resulting in higher plant revenues."
With more than six decades of experience in the industry, Atlas Copco JC Carter Pumps is a recognized leader and innovator of cryogenic SMP pump technology.
Utilizing 21st century aerospace engineering technology, all Atlas Copco JC Carter pumps are built to meet rigid quality and best-in-class standards. The smaller, more efficient designs require less energy, which reduces plant CO2 and CO emissions. Atlas Copco JC Carter pumps are more cost-effective and produce less boil-off gas.
Atlas Copco is an industrial group with world-leading positions in compressors, expanders and air treatment systems, construction and mining equipment, power tools and assembly systems. With innovative products and services, Atlas Copco delivers solutions for sustainable productivity. The company was founded in 1873, is based in Stockholm, Sweden, and has a global reach spanning more than 170 countries. In 2010, Atlas Copco had about 33,000 employees and revenues of BSEK 70 (BEUR 7.3). Learn more at
www.atlascopco.com
.
Atlas Copco Gas and Process is a division within Atlas Copco's Compressor Technique business area. The company develops and manufactures turbocompressors, expansion turbines and cryogenic pumps for the gas and process industry and offers the matching range of aftermarket products. Atlas Copco Gas and Process solutions are used primarily in oil and gas applications, chemical and petrochemical processes, power generation, renewables, and in the air separation sector. With divisional headquarters located in Cologne, Germany, the company operates a global network of production, sales and service locations. Learn more at
www.atlascopco-gap.com
.
###