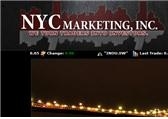 New York, NY, November 11, 2011 --(
PR.com
)-- NYC Marketing Inc. (
www.nycmarketinginc.com
) is an investor awareness company, specializing in profiling stocks that are trading on the over-the-counter (OTC) or pinksheet exchanges and they aim to strengthen their corporate reputation by far exceeding expectations set by their clients.
Is marketing a good solution for any company?
Many companies ask themselves, "Do I really need to budget for a marketing campaign?"
The CEO of NYC Marketing Inc. Jenna Pavliska says the answer to that question is, "We feel the answer to that is can you really afford not to!
"What would be the cost to your company for a missed opportunity? Of course, it's impossible to know at the time an opportunity is missed, but years later it will become clear when a competitor opens a new factory or enters a new market and their revenue grows faster than their competitors. In other words, the annual cost of a strategic marketing plan is miniscule compared to the revenue, market share, and profitability it can generate."
NYC Marketing Inc. profiles companies in great detail supplying the investment community with all the pertinent information that investors are interested in.
Initially, NYC Marketing will prepare a newsletter with the relevant due diligence that investors want to know, and the newsletter will be emailed to over 250k subscribers.
NYC Marketing Inc enhances the marketing awareness campaign using various social networks: message boards, chat-rooms, forums, twitter, facebook.
Because stock investments rely heavily on the word of mouth, NYC Marketing Inc. can have a company as the center of attention on various live chat rooms and message boards.
Because well respected traders have a loyal following they will spread news and views about your company; which is a huge component in any marketing awareness campaign.
According to Jenna Pavliska, "What do many traders do when they contemplate investing in a stock? They run to chat rooms to share their thoughts...they discuss the fundamental and technical aspects...and they exchange research and due diligence which travels along the Wall Street Grapevine."
To maintain a steady record of growth and prosperity for clients, while maintaining a small-firm focus as it pertains to not only the services that are offered, but a responsive hands-on and personalized approach. NYC Marketing Inc strives to turn today's traders into tomorrows investors.
If you are interested in taking your company to the next level, please call
NYC Marketing Inc. at 1- 888-600-2177.
###