My Family CD / Safe Kids Card, Inc. Releases the First Do-It-Yourself CD ID Kit - the Next Generation of Child Identification
MyFamilyCD has just launched the first Amber Ready Do-it-Yourself CD Identification Kit for parents to do in the privacy of their home. For the first time, they are also offering distributorships and sponsorships for the product. Safe Kids Card, inc. hopes this will help to reach as many families as possible and teach them the importance of proper child identification.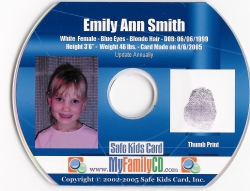 Powell, WY, October 15, 2005 --(
PR.com
)-- My Family CD in conjunction with Team Amber Alert will be offering the first Do-it-Yourself Amber Ready CD ID Kit for parents. This is a major advancement they have developed in the digital biometric storage of a child's information for use in any emergency. It is an easy to use CD identification card the size of a business card and gives parents a compact database in their possession rather than in a storage database that is prone to hackers and negligence.
"In a time when other companies are using illegal databases and causing mistrust in parents, we need to give parents back the security of knowing that ALL of their child's information is where it belongs - in the parent's hands." said MyFamilyCD Founder Jeremiah Hutchins.
The kits, which will retail on their website (www.safekidscard.com) for $24.95, include two credit card-sized CDs already preinstalled with the creation software. The parent simply inserts the CD and follows the on screen instructions to create the CD IDs for the child.
My Family CD is also offering this product to all businesses that would like to brand the product with their company information, hyperlinks, a printable coupon, or other information. They hope that the businesses may be able to sell or give these to the parents as a thank you and/or to give back to the communities to make them safer.
Jeremiah Hutchins, Founder of Safe Kids Card, inc., explained, "We've all seen billboards or watched a TV commercial, but neither of those advertising methods actually HELPS the consumer. Now when a business advertises on or sponsors CD ID Kits to give to parents for FREE. The parent knows exactly who cared enough to HELP with their child's safety - Your Company. This is a win/win situation and it's the best method we have come up with to get our advanced child identification to help as many parents as possible."
My Family CD has discounts available for all law enforcement and non-profit agencies. They are also in the process of launching a nationwide distributorship campaign. MyFamilyCD and Team Amber Alert are on a MISSION to educate the parents and caregivers on all safety issues and the importance of having proper child identification.
For more information, please visit www.safekidscard.com.
###
Contact
Safe Kids Card, Inc
Jeremiah Hutchins
760-486-1506
www.myfamilycd.com

Contact