Designed by You Launches a New On-Line Shoe Designer Tool
The new custom-made shoes brand, Designed by you, launches an application that allows users to design their own shoes, on-line. This addresses creative women with high style and an eye for design and it intends to change the way women shop for shoes.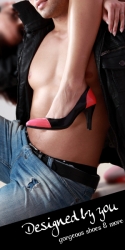 Bucharest, Romania, September 21, 2011 --(
PR.com
)-- The Shoe Designer tool on www.ShoesDesignedbyyou.com allows users to create their dream shoes without making any compromise. The application allows users to customize each part of the shoe, add decorations and choose the colors and materials from the wide range of leathers.
The tool is very easy to use and offers millions of possible models, starting with ballet flats and up to 10cm heels. This way anybody can become a designer and create a masterpiece for their feet. The materials are continuously changing so that the users can always find something new. A bag and accessories collection that can also be customized allows everybody to create a full outfit.
The Designed by you brand was born out of the desire to bring something new and different in the on-line shopping experience, to change the way women see fashion and shop it. The experience of designing your own shoes is a very personal and exciting one and its purpose is to add color in women's life, to help them express their personality by wearing things that have soul, designed by them for them.
"We don't want to launch fashion trends; all we want is people to realize that wearing something that fits their personality, something that is close to their soul brings much more joy than following some seasonal rules," said Raluca Velcu, the co-founder of the business.
All the products are handmade in Europe, superior quality, made only by natural leather and the prices range between 100 euro for ballet flats and 190 euro for boots.
For more details, please contact:
Raluca Velcu - design@shoesdesignedbyyou.com
www.ShoesDesignedbyyou.com
For high resolution images, please access:
http://www.shoesdesignedbyyou.com/media-kit
###
Contact
Designed by you
Raluca Velcu
0040723347376
www.shoesdesignedbyyou.com

Contact