The Terra Cotta Inn Selected World's Best Clothing Optional Resort
Historically, Americans had to travel to Europe or the Caribbean to vacation at upscale nudist resorts and hotels. Now the opposite has happened. Some of the finest nudist and naturist resorts in the world are now found in the U.S.A. And The Terra Cotta Inn Clothing Optional Resort and Spa located in sunny Palm Springs, CA was just selected as the best in the world.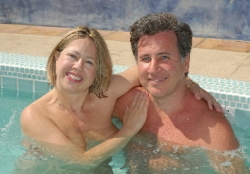 Palm Springs, CA, April 12, 2007 --(
PR.com
)-- Vacationing at clothing optional and nudist resorts is one of the fastest growing segments of the travel industry. It is a booming niche market. In a recent Roper poll, 25% of Americans have gone skinny dipping.
No longer considered like the "nudist colonies" of olden days. Modern nudist resorts rival some of the best boutique resorts around.
This March, at AOL.com, they covered a story by the travel website Gadling.com reporting on the best clothing optional resorts of the world. America is indeed fortunate, as the best naturist resort in the world is located right here in sunny Southern California. The Terra Cotta Inn Clothing Optional Resort and Spa,
http://sunnyfun.com
located in the sunniest city of America, Palm Springs, CA was selected #1 in the world. They beat our resorts from Europe, Mexico, Australia, and the Caribbean.
It is only natural that The Terra Cotta Inn received this praise. They have one of the highest repeat guest rates in the travel industry at just over 75%.
"We are greatly honored by this report. When we first opened 12 years ago, we decided that we didn't want to be the biggest nudist resort around, just the best. And now, we have received that recognition," said Tom Mulhall who along with his wife Mary Clare are the owners of The Terra Cotta Inn. "In the hotel industry, it is a well known fact that bigger does not mean better. And in the nudist industry the same is also true."
"First timers are always very nervous about booking at a clothing optional resorts. Your first nude experience is very important. You have to pick the right clothing optional place. Guests have to be friendly and welcoming to 'first timers,' and management has to be dedicated to making sure your first nude sunbathing experience is fun, and relaxing," Tom stated. "If your first nudist resort or nude beach experience is not good, sadly, you will probably never try nude recreation again."
The Terra Cotta Inn is called the most mainstream nudist resort in America and is perfect for couples trying nude sunbathing for the first time. This is why guests from around the world and especially from the U.S., Canada, England, and Australia fly there for their first clothing optional experience. Of course it also helps that Palm Springs has the best weather in America for nude sunbathing.
Who visits the Terra Cotta Inn? Everyone! You will see democrats and republicans, ministers, doctors, lawyers, nurses, police and firefighters, school teachers, military personnel, stressed out executives, retirees, and young newlyweds. You name the job and someone in that career has probably stayed stayed at The Terra Cotta Inn. And all ages stay there too, from age 21 to the 80's.
Designed by the famous architect Albert Frey, it is a beautiful, historic, mid-century modern building. Originally built for celebrities, with its high walls and privacy, it is perfect for nude sunbathing.
With amenities such as free wifi, free parking, large rooms, top of the line king sized beds and linens, delicious complimentary breakfast and afternoon snacks, state of the art salt water system pool and jacuzzi spa (which lets you luxuriate as long as you like in the famous Palm Springs, spring waters), poolside misting/cooling system, and much, much more, it is luxurious and affordable. The Terra Cotta Inn is the perfect year round vacation destination.
Make this the year that you decide to try something different on your vacation. Why not try vacationing at the world's best clothing optional resort. Give the Terra Cotta Inn a call at 1-800-786-6938. You will be glad that you did.
###
Contact
The Terra Cotta Inn Clothing Optional Resort and Spa
Tom Mulhall
1-800-786-6938
http://sunnyfun.com

Contact