Medical Informatics Engineering (MIE) Selected as NJ-HITEC EHR Vendor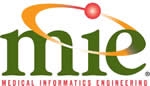 Fort Wayne, IN, September 30, 2011 --(
PR.com
)-- Medical Informatics Engineering (MIE), a web-based, minimally invasive™ electronic health record (EHR) provider, was recently selected as a participating vendor by NJ-HITEC, the Regional Extension Center (REC) for New Jersey. As a participating vendor, MIE's WebChart EHR will help NJ-HITEC's participating healthcare provider's transition from paper to electronic health records and qualify for meaningful use incentives under the American Recovery and Reinvestment Act (ARRA).
WebChart from MIE is an accessible, interoperable, flexible and affordable electronic health record system designed to achieve meaningful use without turning a practice upside down. MIE was one of the first EHR vendors to receive ONC-ATCB certification for Meaningful Use Stage One as a Complete EHR (WebChart EHR 5.1) and is also a CCHIT Certified® 2011 Ambulatory EHR (WebChart EHR Version 5.1) with a 5-star usability rating – the highest possible rating.
"We want to help every member of our regional extension center become a meaningful user of EHR technologies. We've made it our mission to find the best strategic technology partners to help New Jersey physicians reach these goals," said Ron Manke, North Jersey Director of The New Jersey Health Information Technology Extension Center (NJ-HITEC). "MIE has already helped several physicians in New Jersey complete the meaningful use attestation process in a cost effective and efficient manner, all with minimal practice disruption. We are proud to have MIE as a participating vendor because we've seen first -hand how the WebChart EHR can be successful in real practice settings."
In August 2011, MIE helped Stephen Thomsen, M.D. of Hudson Essex Nephrology, become the first physician to attest for meaningful use in Hudson County and in Union City, New Jersey. The practice has transitioned over 11,000 patient files to MIE's WebChart EHR and is also offering a fully integrated personal health record (PHR) from NoMoreClipboard, allowing patients to take a more active role in their healthcare.
"We look forward to working with NJ-HITEC and their physician partners in the future. WebChart EHR from MIE is the perfect solution for small to mid-sized physician practices in New Jersey," said Bruce Lisanti, CEO of Medical Informatics Engineering (MIE). "It is an easy to use, affordable, Web-based platform accessible from any location, on any device that can be customized to a practice's specific workflow."
About Medical Informatics Engineering (MIE)
MIE offers a web-based suite of products that are easy to use, flexible and cost effective. MIE systems are ONC-ATCB certified for Meaningful Use as a Complete EHR (WebChart EHR 5.1) and are also a CCHIT Certified® 2011 Ambulatory EHR with a 5-star usability rating - the highest possible rating.
MIE solutions are employed by small, specialty and group practices; Fortune 500 enterprise employee health clinics (including the Dow Chemical Company and Google); and safety net providers caring for the indigent and uninsured. MIE launched one of the first sustainable health information exchanges in the country, fostered 65 percent EHR adoption in Northeast Indiana, and deploys EHRs across the United States and around the world. MIE solutions include chronic disease management, occupational health, personal health record, patient portal, and wellness modules. MIE has taken 15 different specialties chartless, and MIE products are endorsed by the American College of Cardiology. For more information, visit http://www.mieweb.com.
About NJ-HITEC
NJ-HITEC is the primary care provider's trusted advisor in the timely delivery of high quality healthcare through the selection, implementation and achievement of Meaningful Use of an accredited Electronic Health Record (EHR) system. For more information, visit http://www.njhitec.org/.
###
Contact
imPRessions
Rachel Lukawski-Kuna
773-610-8454

Contact