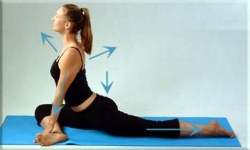 Rancho Santa Margarita, CA, October 12, 2011 --(
PR.com
)-- With more than 16 million people practicing yoga today, according to the Yoga Journal, downward facing dog is more popular than ever, making its way into traditional fitness classes, athletic warm-ups and cool downs, and training regimens from coast to coast. Now offered by the National Exercise & Sports Trainers Association (NESTA), Sport Yoga Certification is a 100 percent online, self-paced training course that helps fitness instructors, personal trainers and yoga enthusiasts get the yoga education they need to build their business and cultivate clients.
With comprehensive online videos, a digital manual, audio lessons and an online exam, Sport Yoga Certification is a cost-effective training program that also qualifies for continuing education credits (CEUs) for both NESTA and ISSA.
"Yoga is a great stand-alone activity and it is an ideal addition to any other physical fitness regimen," said John Spencer Ellis, founder of John Spencer Ellis Enterprises, a leading national fitness and personal development solutions company. "This unique online training takes people step-by-step through each yoga pose, breathing exercises, safety instructions and building a successful business that incorporates the principles of sport yoga."
In particular, the Sport Yoga online certification includes a teaching overview, the principles of sport yoga, meditation and relaxation, proper body alignment, breakdown of poses, warm-ups and heat-building flow, verbal communication and body language, health benefits and integrating sport yoga into sports-specific fitness training. In addition, the training course also includes several Pilates mat exercises and martial arts-based warm-ups.
About Sport Yoga and John Spencer Ellis Enterprises
From the age of 12 when he received his first health club membership as a birthday gift from his father, John Spencer Ellis knew fitness and personal development would be his calling. His unique business success story started in a 400-square-foot studio apartment, and what started as a personal training business has grown into a multimillion dollar group of corporations providing a wide variety of personal development products and services to every continent and more than 55 countries. In 1992, his passion for fitness education led him to found the National Exercise & Sports Trainers Association (NESTA), which educates and provides business solutions for fitness professionals. Now with more than 55,000 members in 55 countries, it is one of the largest fitness associations in the world, and the fastest growing association of its kind in the United States. He developed the Sport Yoga certification to help more personal trainers, fitness instructors and yoga enthusiasts develop safe and effective athletic yoga programs. For more information, please visit
http://nestacertified.com/sportyoga.html
###