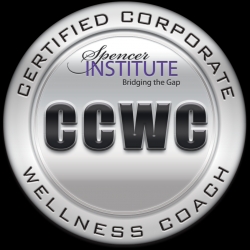 Rancho Santa Margarita, CA, October 18, 2011 --(
PR.com
)-- Since more and more businesses understand that healthy employees are also more productive employees, more and more of those same businesses continue to offer corporate wellness programs for their staff. Helping to meet the growing demand for trained corporate wellness coaches, The Spencer Institute now offers a 100 percent online, self-paced Corporate Wellness Coach Certification Program.
As a matter of fact, more than 50 percent of U.S. companies now operate corporate wellness programs, and companies both large and small report significant savings and benefits thanks to their corporate wellness initiatives. The Spencer Institute's Corporate Wellness Coach Certification is designed to teach students how to manage and facilitate corporate wellness programs, work with human resources departments, create a wellness culture in a company, and promote health to reduce company costs and improve morale throughout the organization.
The online course can train people to serve in careers including: corporate wellness manager, fitness manager, community health promoter, corporate health fair coordinator, consultant or coach, web-based entrepreneur or trainer and activity director for a corporation, among others.
"A corporate wellness coach is one of those professions that allows the coaches to enjoy a rewarding and successful career while helping employees achieve their goals, feel better and contribute more," said Dr. John Spencer Ellis, CEO and president of The Spencer Institute and creator of the Corporate Wellness Coach Certification program. "We now know that corporate wellness programs can save companies more than $10 for every dollar spent, making this profession more and more valuable."
The online certification program includes video presentations, a digital manual, audio interviews and more. The Corporate Wellness Coach Certification includes an introduction to and the foundations of corporate wellness, identifying the needs of both employers and employees, preparing goals, selecting healthy lifestyle programs to use in corporate environments, the value of wellness, launching and promoting worksite wellness programs, program evaluation and more.
"As a corporate wellness coach, you can help employers reduce their health costs and improve absenteeism and productivity while also enhancing a vibrant corporate community and making employees that much happier," Ellis added.
About the Spencer Institute
Founded by Dr. John Spencer Ellis, an international leader in wellness coaching, personal development and fitness, The Spencer Institute offers life coaching, holistic education, nutrition coaching, sports psychology and wellness training certification programs delivered in online and distance learning formats that are designed to provide a step-by-step blueprint to success. The programs were developed to help people find the career of their dreams while helping others live better lives. For more information on The Spencer Institute or the Corporate Wellness Coach Certification Program, please visit
http://spencerinstitute.com/corporate-wellness-coach-certification/
.
###