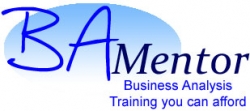 Atlanta, GA, October 24, 2011 --(
PR.com
)-- This workbook helps its users to reinforce their learning by assessing their ability to recollect what they have read. This is accomplished with the aid of diagrams, fill in the blank boxes and sentences, matching exercises, crossword puzzles as well as practice questions. If you are committed to passing the IIBA® exam, you will be able to maximize your learning efforts by using the approach provided in this workbook.
Principal of BAMentor, Linda Erzah, was inspired to have this study aid developed and said, "When I studied for the CBAP®, I spent lots of time creating different exercises to help me understand and retain the concepts and structure in the BABOK®. The study guides currently in the market still do not provide a means to learn this way through such exercises. Our one-of-a-kind study aid will transform the way aspiring candidates study for the CBAP®/CCBA™ exam."
Camille Spruill, Director of Product Development also went on to state, "My journey to becoming a CBAP® involved recreating the themes and concepts of the BABOK® in various forms to assist with my retention of the material. Our CBAP®/CCBA™ Workbook captures this approach and I am confident that it is the right study aid for aspiring CBAP® and CCBA™ candidates."
Whether you are a visual learner or kinesthetic learner, you will find this workbook useful for studying towards the CBAP®/CCBA™ exam. It is available at
http://www.amazon.com/gp/offer-listing/0983922810
as well as on their website at
http://www.thebamentor.com/cbap-ccba-tools-training.html
. It will also be released to bookstores like Barnes & Noble by December of this year. As part of their promotional campaign, the workbook has been discounted until the end of the year.
For additional information, contact Kelemen Erzah at kerzah@thebamentor.com or visit their website at www.thebamentor.com/contact-us.
About
BAMentor is a small group of seasoned Business Analysts and IT professionals who are dedicated and passionate about the Business Analysis profession. We provide professional development and training through our professional development courses, study aids, mentoring program, as well as other tools and resources. BAMentor is endorsed as an Education Provider by the International Institute of Business Analysis (IIBA®)
###