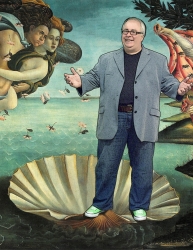 Westport, CT, October 26, 2011 --(
PR.com
)-- The answer to this historic nature versus nurture question will be put to the test on November 19th at New York City's famed Gotham Comedy Club when comedic novice Garrison Leykam takes the stage for his stand up "Comic on a Half Shell" debut performance.
After appearing as a guest on Leykam's radio program, Conversation Crossroad, Stephen Rosenfield (dubbed "The Best-Known Comedy Teacher In The Country" by The New York Times and founder of the prestigious American Comedy Institute), challenged Garrison to take his Stand Up Workshop which includes a "live" graduation appearance at The Gotham Comedy Club. The club has been host to such comedy legends as Robert Klein, Jerry Seinfeld, Lewis Black, Jackie Mason, and many others.
"Becoming a stand up comic is something I've never done. It's totally out of my comfort zone," remarks Leykam, "but I'm never one to shy away from a challenge." And, Rosenfield has a track record of success in teaching even beginners how to write solid, original material and be well rehearsed and ready to perform it for a "live" audience.
As part of a group of aspiring and veteran comedians, Leykam will attend an orientation to the world of stand up comedy followed by three workshops in which he will learn to develop and present his material to a "live" audience. Along the way he will learn The Seven Attributes that all-star comedians share and how to achieve them as well as the most important "Dos and Don'ts" of performing stand up comedy. Rosenfield will also be having one-on-one coaching sessions with Leykam as part of the workshop to help fine-tune his delivery and material before he takes the stage on November 19th.
Leykam's evolution into the world of stand up comedy will be filmed, edited and directed by Jared Silberkleit of the Connecticut School of Broadcasting.
Stephen Rosenfield, Director, of the American Comedy Institute, coaches and directs comedians who have gone on to make appearances on Letterman, Leno, Conan O'Brien, The Daily Show, SNL, Last Comic Standing, and Comedy Central Shows including Comedy Central Presents, one hour specials, and Comedy Central's Premium Blend. They have appeared in every comedy club in N.Y., L.A. and throughout the U.S. and around the world. His students have written for Saturday Night Live, the Late Show with David Letterman, The Chris Rock Show and Chappelle's Show, and have written and starred in their own one-person shows off-Broadway, at Carolines, the Gotham Comedy Club and the New York International Fringe Festival. Stephen Rosenfield has also produced, written and directed comedy shows at Carolines, PSNBC, Stand-Up New York, The Comic Strip, Gotham, Don't Tell Mama and The Improv.
Garrison Leykam is the Host and Producer of the Conversation Crossroad radio program on Blog Talk Radio. He Hosted and Produced "DINERS" on Connecticut Public Television (CPTV). His motorcycle from the TV show was recently featured in the "MotoStars: Celebrities + Motorcycles" exhibit at the Motorcycle Hall of Fame Museum alongside bikes owned by Brad Pitt, Peter Fonda, Journey, Rush, and Foreigner. A former producer for London Records, Inc., Garrison produced the Texas band Greezy Wheels, legendary jazz pianist Erroll Garner and singer-songwriter Leslie Pearl. He's been associated in various capacities with the music of The Moody Blues, The Rolling Stones, Van Morrison, Al Green, and others. A musical performer himself, Garrison has appeared at CBGB's, DownTime, The C Note and Nashville's legendary Bluebird Café.
The Gotham Comedy Club is a legendary venue for stand-up comedy in New York City. The club is located on 208 West 23rd Street between Seventh and Eighth Avenues in Chelsea. Several movies and television shows have been filmed at the club. Performers include Dave Chappelle, Jerry Seinfeld, Lewis Black, Chris Rock, Dane Cook, Artie Lange, Colin Quinn, Greg Giraldo, Tom Papa, Adam Ferrara, Jay Mohr, Dean Edwards, Pablo Francisco, Jim Gaffigan and Gabriel Iglesias.
The Connecticut School of Broadcasting is the nation's oldest and largest group of broadcasting schools. Over the past 47 years, CSB has helped thousands of people start their broadcasting career.
Photography and graphic design by Christopher K. Leykam.
###