Flat Earth Trading Co. Launches New Tiki Tee-shirt Line Featuring the Art of Sam Gambino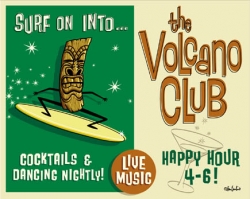 Tucson, AZ, April 21, 2007 --(
PR.com
)-- Flat Earth Trading Co. is excited to announce their new Tiki t-shirt line, featuring the art of world famous Tiki artist Sam Gambino. This fantastic line features Sam's retro 50's inspired tiki designs. Tiki products' popularity have exploded recently and demand has been incredible for this exciting new product. The line is silkscreened on heavyweight 100% cotton shirts, and is available at better surf, gift, and retail stores across the US. They are also available at Flat Earth Trading Company's website at
www.flatearthtrading.com
. Retail Price $17.99
About Flat Earth Trading Co.
Flat Earth Trading Co is a Tucson, AZ based manufacturer and importer of hand crafted products made around the world. Flat Earth Trading Co. carries a wide range of products from sterling silver jewelry, hand carved Tiki and tribal masks,Tiki Farm mugs, stone and wood Buddhas, hand crafted jewelry displays and dozens of other products.
Flat Earth Trading Co. sells wholesale to businesses around the world and retail online at www.flatearthtrading.com.
For the latest information on their product line or to receive their latest jewelry display catalog, please visit their website at www.flatearthtrading.com or call 888-716-0406.
About Sam Gambino.
Sam Gambino was born and raised just outside of Detroit, Michigan. An avid collector of vintage advertising, he is fascinated with the styles and designs of the 1940s through the 1970s. Sam first gained an appreciation for '40s and '50s art as a child: "I was really fascinated with the title sequences of old Warner Brothers and Tex Avery cartoons. They were simple, yet stylish."
His artistic range eventually evolved into frequently drawing comic panels for King Features Syndicate's "New Breed" comic strip - some of which appeared on clothing and other accessories. He has also designed numerous ads which still appear in various trade publications, as well as the logo for "Wild for Outdoors", a hunting show featured on The Outdoor Channel. In addition, Gambino created "BuckStuds Stanley," the mascot for a line of hunting products by RDI, Inc.
On any given day, you can find him combing junk stores, thrift shops and flea markets. He seeks inspiration by collecting kitschy relics and old instructional books anywhere they can be found - as his studio and attic are littered with them. His art can be seen at www.samgambino.com
CONTACT:
Greg Puhler-Owner
Flat Earth Trading Co.
3201 E. Columbia St.
Tucson,AZ 85714
888-716-0406
Fax-520-807-1659
Greg@flatearthtrading.com
WWW.FlatEarthTrading.com
###
Contact
Flat Earth Trading Co.
Greg Puhler
888-716-0406
www.FlatEarthtrading.com

Contact