Super Sexy Clothing Signs West Coast Sales Rep to Represent their Custom Couture T-shirt Line
Stephanie Manos Sales acquires Super Sexy's unique line of custom couture t-shirts to be represented in the western region of the United States.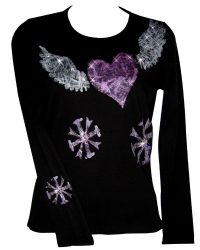 New York, NY, October 24, 2005 --(
PR.com
)-- Stephanie Manos is an established sales rep, representing cutting edge women's contemporary apparel lines. Manos' showroom is located at California Market Center at 110 East 9th Street, Suite C509, Los Angeles California 90079. Stephanie Manos will be representing
Super Sexy T-shirts
to retailers/buyers in the following states: California, Nevada, New Mexico, Arizona, Washington, Utah, Oregon, Colorado, Alaska, Hawaii, Idaho, Montana, and Wyoming.
Stephanie Manos is launching the Super Sexy T-Shirt line to the west coast region at the On 5 show taking place from October 21 through October 25, 2005 at the California Market Center, located at 110 East 9th Street in Los Angeles, CA 90079. Exhibitors will be showcasing their Spring 2006 lines. Show hours are from 9am to 6pm and parking is complimentary. Stephanie Manos can be reached at Tel: 213-623-8272 for On 5 booth appointments or showroom appointments.
About
Super Sexy
:
Anna Pereira wanted to create a one-of-a-kind garment that was composed of the highest quality elements available for all Super Sexy females! She devised a plan to create a clothing line that allowed the customer to express themselves utilizing the elements of:
Airbrushing - Since there are so many beautiful paint colors and the design itself stretches with the garment, the design doesn't pucker, crack, fade or peel off.
Genuine Swarovski Crystal Rhinestones, individually hand applied - only the most magnificent rhinestones, individually applied, would satisfy her; Rather than cheap rhinestones that are affixed with unsightly 'prongs' around the rhinestones (not to mention a nuisance).
Unique Exclusive Originals - Allowing you to have a hand in designing your own garment. Super Sexy garments are made in the USA and machine washable.
For more detailed information and examples of Super Sexy's work, please visit them at:
www.MySuperSexy.com
For Media Inquiries Contact:
Allison Kugel
Allison Dawn PR
Tel: 516-942-0264
Email: AllisonDawnPR@aol.com
###
Contact
Allison Dawn Public Relations
Allison Kugel
516-942-0264
www.allisondawnpr.com

Contact