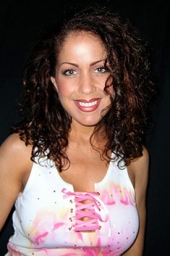 All hail the Super Sexy Female!
Every female is sexy - hands down. But, the Super Sexy female knows it.

But who is she?
She is radiant, confident, alluring, a little mischievous and always self assured; she has a positive nature, an attitude of respect for herself, the people and things around her and a uniqueness that only she possesses. She has the uncanny ability to steal the show or blend into the crowd. She is fashion forward and loves attention. She is sublimely commanding; always loyal; fascinatingly funny; serious, sophisticated and classy. Definitely a 'not afraid to get her hands dirty' to 'I can't go out of the house without my lipgloss ' type of girl! She can size you up, let you into her world or drop you like a bad habit. Never malicious; but can be ferocious. And never forget, a Super Sexy chick is all about the BLING!

Compelling Influences = Creation.
Anna wanted to create a one of a kind garment that was composed of the highest quality elements available for all Super Sexy females. She devised a plan to create a clothing line that allowed the customer to express themselves utilizing the elements of:

Airbrushing - since there are so many beautiful paint colors and the design itself stretches with the garment. The design doesn't pucker, crack, fade or peel off.
Genuine Swarovski Crystal rhinestones, individually hand applied - only the most magnificent rhinestones individually applied would satisfy her; rather than cheap rhinestones that are affixed with unsightly 'prongs' around the rhinestones (not to mention a nuisance).
Unique Exclusive Originals - Allowing you to have a hand in designing your own garment was important as well. Don't you hate running into your clothing on someone else's body? I hate that! All of these elements on a quality USA made garment that is easy to care for and lasts.

Alas! The garment line produced for all of the Super Sexy females around the globe was born!

The Process
What the insiders know:
Super Sexy®'s garments are airbrushed and hand painted. They may look like something off the rack of a trendy boutique that was manufactured by the thousands, but don't be fooled! Our enhanced garments go through a complex production process all by hand, one at a time.

What do you get when you get a Super Sexy original?
At Super Sexy, we airbrush your design on the garment hence, the ink goes directly into and doesn't sit on top of the fabric as with certain screen printing methods. We are not knocking screen printing ... but there is a difference between getting a screen printed tee not made with commercial grade equipment (the kind of machinery used when producing the screen printed tees you see in the upscale specialty stores) and the five dollar tees being sold by street vendors in major cities. Actually, they're cool too, if you want to wear it only once.

What can you expect?
1. Our custom airbrushed shirts are soft to the touch and most important airbrushed designs S-T-R-E-T-C-H with the garment. No puckering. No Peeling. No cracking.

2. Each couture custom shirt requires a laser or hand cut template which allows us to achieve many text options that look professional and ensures that you get exactly what you ordered.

3. We only use the highest quality embellishments and apply them meticulously by hand ... like 'prong free' Swarovski® crystal rhinestones.

4. Go ahead and machine wash in delicate - your shirt will be fine.

5. Your shirt is designed in the USA and as of July 2004 we currently carry stock which is 90% MADE IN USA and by the end of the year 95-100% of our garments will be made in the USA. The Super Sexy brand was developed for fashion savvy females who have a heightened awareness of quality and appreciate uniqueness.

Couture tee shirt, airbrushed shirt, airbrush design, custom airbrushed, airbrush name, Trendy Tee, Trendy fashion, Customize, Custom Bling, Custom Rhinestone, Swarovski rhinestone tee, Swarovski crystal rhinestone, design a shirt, rhinestone shirt , Custom t shirt , Tee shirts, Boy Beater, Wife Beater, Ripped t, cut tee, Tie Back Tank top, Tube Top, Sleeveless Tee, Long Sleeve Tee, Glitzy, Initial on, Initial Tee, Initial Shirt, Initial, Letter shirt, monogrammed, printed tee, Mrs. shirt , Sexy Custom, Personalized t, Personalized Shirt, custom rhinestone, Mrs. shirts, Custom shirt, Custom design shirt, sexy tank top, Personalize shirt, rhinestone tee, Personalized Custom, Sexy Tees, name shirt, rhinestone shoes, Personalized tee, bridesmaid shirt, glitter name, custom printed t, name tank, Mrs. top, My Name on, Sexy Top, Sexy Tee, Sexy Shirt, Sexy Shirts, Sexy Casual, Custom design, Customized name design, Flashy Tee, Glitter tee shirt, Glitter t, Unique shirt, One of a kind shirt, Custom shirt made, Custom Tee made, Rhinestone letter, Celebrity shirt, Bling! Bling! Shirt, Custom Mrs., You design, I can design, Sexy Shoes, Sexy High Heels, Platform shoes, cork , wood, Lucite, wedge shoes, stiletto heel, shoes for women, women's shoes, exotic shoes, fashion shoes, sandals, mules, slip on shoes, sexy heel, clear shoes,
Status

Private Company
Company History
Super Sexy Up Close & Personal
Years ago in a small town in New Jersey there was a girl by the name of Anna. She grew up in a time when Aqua Net Extra Super Hold and Spandex Pants reigned supreme. The makeup was heavy the hair was high and freestyle, techno or hip hop was 'boomin on the system'. It was a time of expression and gaud. Being artistic and creative was a wonderful thing.

Anna always loved art and sparkly things. She took every art class that was offered at her high school. She started airbrushing and hand painting her clothing to express herself and enjoyed wearing one of a kind originals she produced. From friends to teachers, everyone had started asking her to make them unique wearable art as well. Upon graduation she received the coveted 'Artist of the Year' award...thus begins the story of Super Sexy...