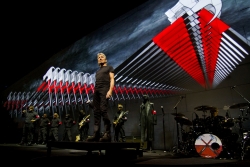 New York, NY, November 21, 2011 --(
PR.com
)-- According to Outside The Wall North America's first and most trusted Pink Floyd Tour website
Roger Waters Tour
is going to be a historic, modern-day production of The Wall. North America in 2012, will be the last stop of Roger's two year tour, this time landing the massive spectacle in several suitably large stadiums. With a new, 36-show North American tour scheduled to kick off on May 1st, The Wall will come to: Fenway Park in Boston TBA, AT&T Park in San Francisco (May 11th), BC Place in Vancouver (May 26th), Wrigley Field in Chicago (June 8th), Rogers Center in Toronto (June 23rd) and citizens Bank Park in Philadelphia (July 14th). Between those weekend stadium dates, Waters will play arenas across the U.S. and Canada, including many markets that were skipped the last time around.
"Thirty years ago, when I was kind of an angry and not very young lad, I found myself driven into defensive positions because I was scared of stuff, and I've come to realize that in that personal story, maybe somewhere hidden in there exists an allegory for more general and universal themes, political and social themes. It's really for that reason that I decided that I'd try and create a new performance of this piece using a lot of the same things that we did all those years ago. We're going to be projecting over 140 yards. So now its going to be 1,500 pixels wide. We've done light tests at Fenway Park and Wrigley Field, as well as Yankee Stadium just to see what the ambient light is like. And its fine. It works," said Roger Waters
The eagerly-awaited
Roger Waters Tour
will combine an evening's worth of music --comprised of two sets plus encores-- with state-of-the-art staging, lighting and sound.
The Set will consist of Roger Waters and full band performing "The Wall," one of the defining works of rock music history, from start-to-finish. Waters last performed "The Wall" live in America with Pink Floyd more than 30 years ago.
The Roger Waters concerts will utilize elaborate large-scale video projections and theatrical staging to underscore and accentuate the power of the music which is delivered via a state-of-the-art 3600 quadraphonic sound system immersing the audience in a 3-dimensional hyperworld.
The appearance will be a state-of-the art affair, featuring a 240-foot-wide and 35-foot-tall Wall complete and after broken down during the concerts. Other backdrop and appropriate furnishings are accepted to be allotment of the appearance as well.
Album illustrator Gerald Scarfe, who worked on the tour and 1982 film, is providing new art and redesigning puppets and inflatable objects.
###