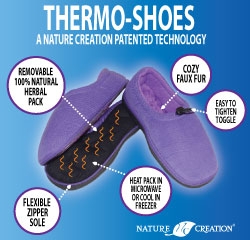 Chatsworth, CA, November 22, 2011 --(
PR.com
)-- Nature Creation, a nationwide leading provider of 100% natural hot and cold herbal packs, announced the debut of their new, heatable, slippers, the Thermo-Shoes. The Thermo-Shoes have removable; reusable herbal packs that heat in the microwave to be placed in the flexible, zipper sole compartments of the shoes.
"The Thermo-Shoes raises the bar for both slippers and herbal therapeutic products," said Hagay Mizrahi president of Nature Creation. "Slippers are a wonderful gift item, but our Thermo-Shoes add a natural benefit to the category and can be worn outside due to the durable rubber sole. I am sure consumers are going to love this product."
In addition, the patented Thermo-Shoes (US 7,594,344 B2) not only warm the feet, but have been known to promote relaxation, reduce stress, stiffness and aches. They are made of soft corduroy, come in four universal slippers sizes (S, M, L, XL) and have an easy to tighten toggle. Current colors available are lavender and dark blue. Herbal insert filling includes chamomile, cinnamon, lemongrass, peppermint, wheat and other natural herbs and grains.
The Nature Creation Thermo-Shoes are available at select retail outlets and at http://www.naturecreation.com.
Founded in 2000, Nature Creation is a leading maker of herbal hot and cold packs. The company holds two patents and produces over one million packs a year from 100% natural ingredients. Herbs are sourced from USA growers whenever possible and production takes place in its' Chatsworth, California plant. For further information contact Tanya Roberson at 818.341.7007 x111.
###