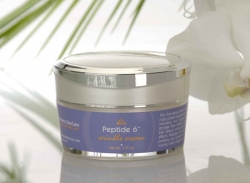 West Palm Beach, FL, December 08, 2011 --(
PR.com
)-- Anti-aging skin care product retailer Mango Madness Skin Care, Inc. is expanding its line of skin care products featuring peptide creams for fewer wrinkles and smoother skin; these
peptide creams
include an anti-wrinkle face cream, a
neck firming cream
, and an
under eye cream for dark circles
.
Peptides are short segments of amino acids that occur naturally in the human body and are responsible for skin related functions such as building collagen. Other peptides have the capability to relax small muscles under the skin that visibly reduces wrinkles and promotes smoother skin. One of the best known peptide products, Argileline®, consists of acetyl hexapeptide, which was developed to mimic the effects of Botox® by inhibiting the ability of small muscles to contract. This smoothes out existing wrinkles.
Another popular peptide, palmitoyl oligopeptide, also known as Matrixyl®, helps build collagen by sending a chemical messenger to skin cells that collagen has been depleted. Collagen is the fibrous tissue that provides a firm foundation for skin. Both Argireline and Matrixyl have been proven in clinical trials to reduce wrinkles and promote smoother skin.
Other peptides such as tripeptide and octapeptide complement the effects of Argireline and Matrixyl to minimize fine lines, decrease wrinkle depths and provide overall smoother, younger looking skin.
"Our expanded peptide line now features three skin care products containing peptides: Peptide 6™, a face cream for wrinkles; Refresh Me™, an under eye cream for dark circles; and Necquelle™, our new neck firming cream," said Gary Myers, president of Mango Madness Skin Care. "All of our peptide creams contain high concentrations of peptides, which are highly effective for building collagen, firming skin, eliminating fine lines, and smoothing out existing wrinkles," Myers added.
In addition to being formulated without parabens, the Mango Madness peptide creams contain no sulfates, phthalates, BPA, or other suspect ingredients. The company performs no animal testing and all ingredients are animal cruelty free.
Mango Madness Skin Care manufactures a complete line of paraben-free skin care products including hyaluronic acid moisturizers, retinol and peptide wrinkle creams, glycolic acid, amber based and microdermabrasion type exfoliators, a vitamin K dark circle eye cream, gentle skin cleansers, and a broad spectrum sunblock. The company recently opened its newest retail store at CityPlace in West Palm Beach, Fla.
###