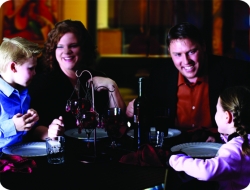 Suwanee, GA, December 09, 2011 --(
PR.com
)-- Suwanee, GA dinner and dancing restaurant remembers family this winter. The focus of The Moondance Restaurant and Lounge is to help guests remember the good times in life, the important elements that might have been forgotten in the hustle and bustle of today's society. That includes remembering the things that matter most, like relationships and family. To encourage families to spend quality time with one another during this winter season, they have launched two new promotions: "Children Under 12 Eat Free," making dining out more economical for families with small children, and "Early Evenings Extra," encouraging early reservations for families and older guests who prefer to dine before 7pm. With these family friendly promotions, you'll be able to enjoy a unique and special time with the family that's sure to be remembered. Moondance Restaurant & Lounge is committed to family, starting with its core - the marital relationship. "I am so moved every time someone comes up to me, thanking me for opening a place like 'Moondance.' Many have tears in their eyes as they tell me how we've provided the first opportunity for them to dance with their spouse in years!" says owner Christine Alestra. Couples are invited to ring in the New Year at the restaurant. Tickets are $25 per couple or $15 per individual and reservations are required. And for families that might not be able to celebrate New Year's out together due to the age of their children, Moondance has a special offer. They are calling it "Early New Year's." Families are invited to come in between 5pm and 6:30pm for an early dinner and then celebrate the arrival of 2012 in London. They'll have a balloon drop, party favors, a DJ for dancing, and of course, a countdown at 7pm. ‐ All before the more adult‐oriented celebrations for New Year's Eve. Again, space is limited and reservations are required.
The restaurant continues to realize their vision of re‐invigorating relationships. Couples can come celebrate their union, dance like they were 20, listen to music with intent and passion, and hold deep conversations about their past and their future. Friends can get together and remember the times they've had, how much they've meant to each other, and relive the soundtrack of their youth via live entertainment and dancing. Singles can enjoy a safe, age-appropriate dance venue where they are respected and connect with like-minded people from their community. The Moondance Lounge is the first dinner and dancing venue of its kind, catering to the 30+ crowd, in Suwanee.
Music during the dinner hours provides the perfect blend of background ambiance while also being suitable for slow dancing between courses. Then at 9pm, the entertainment kicks up a notch with more guests stepping out on the dance floor as the focus shifts from dining to entertainment.
They provide American cuisine with a twist. Executive Chef Todd Paige has created a mouth‐watering selection of shared starter plates, entrees, delicious soups and salads and the most amazing petite desserts to cap off any perfect meal. The restaurant also gives back through their Moondance Cares program, a guest directed charity support initiate where the restaurant provides a portion of all proceeds monthly to a customer selected charity. More information about the restaurant, located at 300 Peachtree Industrial Boulevard in Suwanee, is available at www.MoondanceLounge.com.
Additional media resources are available at www.ReformationProductions.com/ Moondance including photos available for use and re‐broadcast with permission from the company.
###