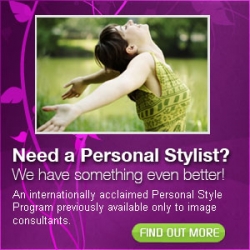 Norwalk, CT, December 10, 2011 --(
PR.com
)-- Personal stylists have shown the world how they can transform lives, but there's been a shake up. It's called My Private Stylist and it's transforming lives and wardrobes the world over.
"My Private Stylist" is a web-based program that makes style & fashion recommendations for women, based upon their personal measurements, age and lifestyle.
"This program teaches ordinary women how to become their own personal stylist," says "My Private Stylist" representative Liz Lew. "The program teaches women all the essentials that personal stylists-in-training learn, so in effect, it teaches them how to be their own personal stylist."
Behind the success of the program is its creator, internationally acclaimed image consultant and trainer, Ann Reiten. For 15 years, Ann has trained image consultants around the world, and with this program, she trains everyday women to become their own stylist.
"This program tells you what clothing you should wear for your body shape, age and measurements," says Liz. "No matter if you require clothing for business or pleasure, 'My Private Stylist' makes recommendations for your clothing, hairstyle, shoes, eyewear and accessories."
All over the world, women are being empowered by the program and they are stepping out with style and confidence. And they are doing it without having to fork out the expense normally associated with a personal stylist.
"Ann's program educated me on why something looks right or wrong on me, based on design, line & illusion principles. The program is easy to use, and it is so much fun to see all of the personalized suggestions (over 500 of them)," says Liz. "I was so impressed, I now promote it to everybody I know and beyond. I love it!"
To find out more about this revolutionary personal stylist program, check out www.turnupyourstyle.myprivatestylist.com
Men's version (released October 2011)
Men…"A Touch of Style Makes a Big Difference" www.turnupyourstyle.menofstyle.com
For Further Information:
Contact: Liz Lew
Telephone: 781-354-9700
Email: liz@turnupyourstyle.com
Website: www.turnupyourstyle.myprivatestylist.com
www.turnupyourstyle.menofstyle.com
###