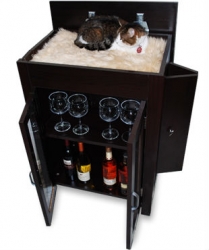 Los Angeles, CA, December 14, 2011 --(
PR.com
)-- In 2008, Kate and Jay Boyer were cleaning out their TV cabinet and had emptied a drawer, when Emma, their cat, jumped in to take a nap. Not wanting to disturb her but wanting to finish their task, Kate and Jay got to thinking: Wouldn't it be great if there was a cabinet built for both the cat and owner? A place where the cat could sleep while still providing storage and style for the living room? The goal was simple: Let's find a way to spoil our cat, not our style.
Kate and Jay started sketching ideas, had a prototype built (Emma loved it!), and applied for a patent. Three years later this December, the Cat Convertible Cabinet launched for online sales at
www.catconvertibles.com
and is available to retailers nationwide. Made of wood veneer and glass, the cabinet is available in both black walnut and brown cherry. The front has two french doors that open to a large functional storage space great for wine, glasses, books, towels, or whatever suits the owner. But what makes this cabinet unique is that it has a side door that opens to expose a cat scratching wall and a lid that slides back out of view to reveal a faux fur cat bed (sold separately). When you have guests, they'll never know that your attractive piece of furniture provides your cat with so much pleasure. Now, you can explore your inner "crazy cat person," while maintaining your personal panache.
To thank Emma and her feline friends, Kate and Jay donate 10% of their proceeds to the Human Society of the United States.
Retail Price: $329, Holiday Sale Price: $259
Special Online Promotion: $30 off. Promo code: ccfriend30
Contact: info@catconvertibles.com
###