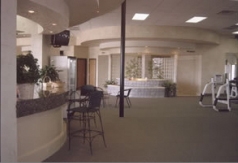 Dallas, TX, May 05, 2007 --(
PR.com
)-- The Fitness Club in Dallas Texas, created by the visionary health and fitness design company, Fitness Design Inc. announced the sale and strategic partnership of The Fitness Club on Midway Road in Dallas Texas. Located at 18110 Midway Road they will be launching an "Under New Management Grand Re-Opening" in the next couple weeks.
The stunning boutique Fitness Club specializes in wellness strategies and fitness programs for the community. They are experts in combining both health-promotion and exercise-related activities designed to facilitate positive lifestyle changes. This is the place to go for help in reaching your personal and professional fitness goals.
If you want to work out by yourself or with a personal trainer this unique private training studio has the facilities, services and environment to provide their members with the highest quality customer care. From personal towel and laundry services to private sauna's they have it all.
One of 3 reciprocal Dallas locations, The Fitness Club is unrivalled in the Dallas Texas area. The Fitness Club's all have a modern look and style with special consideration taken to ensure that each club is totally unique and is tailored to the needs of the local area.
The Fitness Club on Midway includes certified trainers that offer their services and specialized programs to the members. The Fitness Club trainers take the time to educate and support their members with a program for everyone, over 60% of our members work with a personal trainer. The Fitness Club also features one on one, group and family training programs at their state-of-the-art equipment and aerobic center.
The new club will be owned and operated by Michael Bell who is also part owner in a Fitness Club in South Florida. Michael Bell commented, "The Fitness Club is committed to bringing health and wellness programs into the community. Our club offers a private studio atmosphere with more attention to specific needs of our members and a professional approach to fitness. We also provide exceptional facilities for the local area with an exceptional staff to match.
"Our members range from sports professionals, to families, to regular gym goers so it is important that the expertise and offering is of an exceptionally high standard with something for every member. The team and I are thoroughly looking forward to joining the local community."
The club is planning a "Grand Opening" community health fair soon to introduce the programs and trainers to the community. Stay tuned for more information and go to the website at
www.thefitnessclub.com
.
About The Fitness Club
http://www.TheFitnessClub.com
The Fitness Club is committed to reshaping the way Americans live and move, and their health clubs are uniquely suited to help Americans of all ages, shapes, sizes, and fitness levels to achieve their long-term health goals.
For more information, to arrange an interview or visit the club please contact Bernadette Bell at 972-267-2626 Please get in touch if you would be interested in running a promotion with The Fitness Clubs.
About Fitness Design, Inc.
http://www.FitnessDesignInc.com
Fitness Design, Inc is a Dallas Based firm with over 15 years experience in operating and designing fitness facilities. Their designs combine unique and uplifting archecture with a professional personalized service. Their facilities range from upscale commercial fitness centers to corporate and multi family fitness centers to customized home fitness rooms. For more information call David Risser at 972-490-0540 or drisser@fitnessdesigninc.com .
###