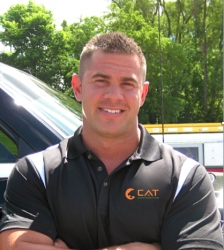 Roscoe, IL, December 29, 2011 --(
PR.com
)-- In the last 10 years CAT Contracting, Inc has grown from the one man operation of Matt Spanton into the nation's leading restoration company. On its 10 year anniversary it is expected to post sales numbers which will indeed be well above industry standard. "Our expectation is 20 million," says Matt Spanton founder and president.
CAT Contracting and Matt Spanton have been known for innovative business principles and the ability to dominate markets by being the nations best choice when choosing a contractor to repair roofing and siding. "It's really amazing the notoriety and respect we've earned in such amount of time. Although I've worked for other companies in the past, CAT is and always has been my baby, so to see it take such flight is honestly humbling," Matt Spanton says.
Spanton attributes CAT Contracting's success to its 2 founding principles; Have Integrity, and Have Fun. "Everything else is just contributing factors" Spanton says.
2012 is poised to be the best year ever for Mr. Spanton and his crew. "We expect to be near 30 million in gross revenues for 2012 which is crazy when looking back where we started."
###