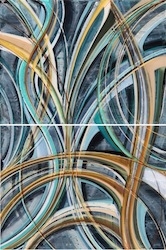 Chicago, IL, January 04, 2012 --(
PR.com
)-- KM Fine Arts, is pleased to provide attendees the opportunity to meet internationally-known Christopher H. Martin, exclusively preview, and experience 16 new vibrant works on January 6th, 2012 from 6:00 - 9:00 p.m.
This exhibition marks Christopher Martin's first exhibition in Chicago. Chris Martin's works reveal a strong connection to nature that translates exquisitely into abstract form. Using the rare technique of reverse glass painting, his organic compositions fuse multiple layers of translucent, iridescent paint while mimicking the effects of heat, wind, and water. Vibrant acrylic-on-acrylic pieces allow the viewer a peek into an organic kaleidoscope of unexpected order and harmony. For Martin, art is a very internal process. His abstractions draw on "patterns of nature occurring within other patterns," and art then processed through soul-searching sessions of substantive painting.
Based out of Texas, Martin has achieved international recognition for his creations. His vibrant, acrylic‐on‐acrylic abstracts fuse lush colors and movement, forming expressions of nature. He also creates inspirational, metallic filmwork of artistically enhanced images.
His work has now spread globally to corporate collections from Bermuda to Hong Kong. What sets him apart is a style as fluid and changing as the organic compositions he creates. Year after year his clients return adding more pieces to their individual collections.
The spectrum of Chris' private and corporate collectors include former President George Bush Sr., firms such as Deloitte and Touche, Gensler Architecture, Boeing Aerospace, Met Life, the MGM Grand and Mirage Hotel & Casinos, Equinox Spas and Gyms, the lobby of the new Dove Mountain Ritz Hotel, in Tucson, Arizona.
"Flow, is about my creative process and application. The acrylic paintings that are my essential artistic expression are simply controlled patterns of water and pigment on a non permeable surface. The pattern or flow of the water is the vessel for the color and forms the success or failure of the painting. To me, flow is also a state of mind that allows me to move from one general expression to another much like shifting posses in a yoga practice; allowing for repetition to give way to transition in a balanced and controlled fashion." - Christopher H. Martin
About KM Fine Arts
Located in the world - renowned John Hancock Center on Chicago's magnificent mile, KM Fine Arts showcases the very best in modern, postwar and contemporary paintings, sculpture and works on paper. We have more than a decade of experience in the arts. Our inventory is comprised of masters and well-known artists from Europe, North America, and Asia with noted artists from Botero, Chamberlain, Gottlieb, Frankenthaler, Hofmann, Indiana, Miro,and Picasso to Dine, Haring, Kahn, Kapoor, Mehretu, Motherwell, Rauschenberg, and Warhol.
KM Fine Arts is open Wednesday to Saturday 10 a.m. - 5 p.m. and Tuesday by appointment. For more information about KM Fine Arts please call 312-255-1202 or visit www.kmfinearts.com.
###