Eat-n-Park Restaurants Selects NewHouse Medical for AED Implementation
Eat-n-Park, one of the region's largest locally-owned restaurant chains, has become "Heart Safe" by embracing an AED Program that will encompass all locations by the end of 2008. NewHouse Medical has been selected as the AED Implementation Specialist for this endeavor.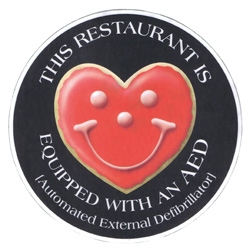 Pittsburgh, PA, May 09, 2007 --(
PR.com
)-- Pittsburgh-based Eat'n Park is believed to be the first restaurant chain nationwide to install Automated External Defibrillators (AEDs) in some of its 76 locations. Executives at Eat'n Park consulted with another Pittsburgh organization to guide them through the process of purchasing and installing their AEDs—NewHouse Medical. The company is a brand-independent solutions provider that assists in the design, development and implementation of public access AED programs.
Public access AEDs are used to treat sudden cardiac arrest (SCA), a condition caused by abnormal heart rhythms called arrhythmias. Victims of SCA collapse and quickly lose consciousness, often without warning. Unless a normal heart rhythm is restored, death will follow within a matter of minutes.
"Eat'n Park is setting a great example for the rest of the country. Public access AEDs should be available at every restaurant and other public gathering places," said Vince Mosesso, Jr., MD, FACEP, associate professor of emergency medicine, University of Pittsburgh School of Medicine, medical director prehospital care, University of Pittsburgh Medical Center, medical director, Sudden Cardiac Arrest Association.
Eat'n Park Director of Safety and Security, Bill Moore, initially installed AEDs in 3 restaurant locations as a test. Positive employee and customer reactions have encouraged Mr. Moore to plan to expand the AED program company wide. "Employee reaction has been great. Even though you do not need to be certified to use an AED, many employees are requesting certification. Just installing AEDs has really increased our safety awareness," said Moore.
To notify Eat'n Park customers of this added health service, the company has posted signs in the entrance of installed restaurants stating "This restaurant is equipped with an AED (Automated External Defibrillator)." On the sign is a picture of a red signature Eat'n Park Smiley face cookie in the shape of a heart.
AED program consultants from NewHouse Medical worked with Eat'n Park to select AED systems that are simple for the layperson to use. With the push of a button, a voice prompts the rescuer throughout the entire process. There is no need to worry about delivering an unnecessary shock; the system will not activate unless an abnormal heart rhythm is detected. If an abnormality is identified the machine will charge itself and instruct the rescuer to stand clear of the victim and to press the shock button.
"According to statistics, within ten minutes of unconsciousness, a victim will likely die. The average EMS vehicle can take up to 12 minutes to respond. The answer is obvious - AEDs need to be more readily available to local communities," said Jason Heffran, Managing Partner & CEO of NewHouse Medical. "Eat'n Park is the forerunner in the restaurant industry. They are taking the initiative to look out for the health and safety of their employees and customers."
Many victims of SCA have no history of heart disease, or if heart disease is present, it has not functionally impaired them. This is why it can strike anyone of any age at any time. SCA affects more than 250,000 Americans each year: nearly one death every two minutes (according to the American Heart Association).
Up to 50,000 of those deaths could be prevented using the Cardiac Chain of Survival (AHA):
• Step one: Early access to care (calling 911 or other emergency number)
• Step two: Early cardiopulmonary resuscitation (CPR)
• Step three: Early defibrillation (AED)
• Step four: Early advanced cardiac life support
"In addition to having AEDs available on site, an emergency response plan should be established and key individuals at each facility also should be trained to use an AED, as well as CPR," explained Mosesso. "Using all of these available resources greatly increases the rate of survival."
Through the guidance of NewHouse Medical, all Eat'n Park restaurant managers are undergoing training in CPR and the use of AEDs. "It's the right thing to do. We serve the public and there is a responsibility there, weather it's serving great food or helping a guest in need we want to be there for our guests." says Moore.
* Eat'n Park
Eat'n Park Restaurants, founded in 1949 as a family carhop, is an award-winning family restaurant chain with 77 locations in Pennsylvania, Ohio and West Virginia, and is a member of the Eat'n Park Hospitality Group, a leading, regional multi-concept foodservice company.
Other brands operated by the Group include, Park Classic Diner, a retro-eatery reminiscent of the company's roots, Six Penn Kitchen, an upscale American Bistro, Parkhurst Dining Services, a provider of contract-dining services to businesses, universities, and cultural centers; and CURA Hospitality, which offers contract dining and management services for senior living communities. Across its dining brands, the Eat'n Park Hospitality Group employs more than 10,000 team members in seven northeastern and Mid-Atlantic States.
* NewHouse Medical
NewHouse Medical is a brand-independent solutions provider that assists in the design, development and implementation of public access AED programs. Through NewHouse Medical's AED Deployment Program, they hope to remove the obstacles many institutions face in the acquisition of AEDs.
For additional information about how to use or purchase a public access AED, please visit
http://www.newhousemedical.com
or call (800) 675-9597.
* Sudden Cardiac Arrest Association
For additional information about sudden cardiac arrest, please visit www.suddencardiacarrest.org.
###
Contact
NewHouse Medical
Jason Heffran
(888) 839-2705
http://www.shop.newhousemedical.com
Phone: (800) 675-9597

Contact