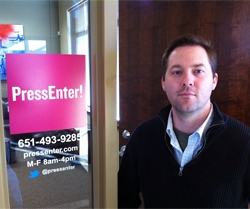 Woodbury, MN, January 13, 2012 --(
PR.com
)-- PressEnter, a seventeen-year-old web design agency, has moved from Hudson, Wisconsin to its new home just off Bielenberg in the Tamarak Hills office park.
The new office not only provides room for the website company to grow, but a convenient location to welcome its current clients and local businesses. Shaymein Ewer, PressEnter's creative director believes that Woodbury is the ideal location for PressEnter: "Woodbury is a vibrant business community. Local businesses are active and savvy. They want smart website solutions, but a personalized feel they can't get from some of the larger firms in the Twin Cities. PressEnter is that happy-medium, and Woodbury is the ideal place for our agency."
More than designing websites, PressEnter wants to be a resource for Woodbury businesses. Ewer states, "Our plan is to host workshops for local companies in addition to becoming a fixture in the community. Everything online leaves a lot of people overwhelmed and scratching their heads: it's our job to help people navigate their choices. Our new office is centered around the idea of education, and we look forward to inviting businesses into our space so we can empower them with information."
In all, the PressEnter team couldn't be happier: "We're lucky to have acquired this new space. With it, we'll be able to better serve our clients, continue to grow as a company, and get involved in the community in a way we weren't previously able."
PressEnter is located in Suite 104 at 683 Bielenberg Drive.
About PressEnter:
PressEnter is a website design agency focused on helping companies manage their internet communications by designing website strategies, not just pretty graphics. Since 1995, PressEnter has created remarkable interactive experiences that grow businesses and ensure their clients stand out from the noise online.
###