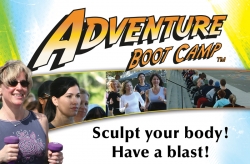 Rancho Santa Margarita, CA, January 21, 2012 --(
PR.com
)-- Whether you want to teach popular boot camp fitness classes or take a boot camp exercise class in your area, Fitness Boot Camps, available online at http://www.fitnessbootcamps.biz/, offers a full suite of options for fitness lovers globally.
For personal trainers and fitness instructors, the website offers training and certification in the popular Adventure Boot Camp workout as well as specialized boot camp workouts, including martial arts, high impact training and more, in addition to information on and links to nutrition and wellness programs. The boot camp training is 100 percent online and self-paced.
For fitness and boot camp lovers, the Fitness Boot Camps site provides links to a variety of local boot camp programs as well as boot camp exercise DVDs for at-home boot camp training. As the world's most highly regarded boot camp workout, Adventure Boot Camp also includes the largest directory of boot camp listings from coast to coast.
"Whether you are a personal trainer who wants to pursue a passion for teaching boot camp or an exercise enthusiast who wants to take your fitness to the next level by adding in more weekly boot camp workouts, the Fitness Boot Camps site offers a complete menu of boot camp programs, trainings, classes and information," said John Spencer Ellis, founder of John Spencer Ellis Enterprises, a fitness and personal development solutions company, and the Fitness Boot Camps site. "Boot camps are fun, effective and challenging, no matter what your level, so we are pleased to offer even more great boot camp resources for personal trainers and boot camp lovers across the globe."
The website also features some Adventure Boot Camp success stories, specials on boot camp and nutrition products, and links to everything boot camp.
About John Spencer Ellis Enterprises and Fitness Boot Camps
John Spencer Ellis Enterprises is a solutions provider for fitness and coaching professionals around the world, providing education, turn-key business programs, coaching and resources for new and advanced fitness and coaching professionals. For more information about John Spencer Ellis Enterprises or local fitness boot camp options or certification, please visit
http://www.fitnessbootcamps.biz/
###