SML Group Ltd, Launches "ViziT" RFID Item Visibility Solutions for Retail Garment and Item Tracking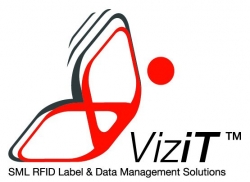 New York, NY, January 16, 2012 --(
PR.com
)-- NRF Big Show, New York. SML Group Ltd, a global brand identification solutions provider that supplies tags and labels to the retail apparel industry, today announced the launch of its new RFID solutions, which will carry the brand name of ViziT.
ViziT item visibility solutions provides for a full range of RFID/EAS enabled paper and woven labels, plus tickets and stickers that can be attached to apparel hanging and stacked items.
ViziT offers real time item visibility designed to aid a retail store as it strives to provide its customers with an improved product selection and in-store experience. Each label will carry its own unique GS1 EPC serial number, which may be attached to garments and items, which can then be tracked by means of the SML ViziT IT cloud based data management software. ViziT also provides for semi automated inventory control and offers improved Loss Prevention by triggering alarms and providing item identification at the store exit.
SML works along with the Impinj STP™ Source Tagging Platform and is able to offer high speed RFID chip encoding and label printing through its own global network of Service Bureaus* in locations, such as China, Korea, India, Bangladesh, Central America, USA and Europe. High speed encoding means that we can produce a very quick order turn around time for delivery of labels from receipt of order.
In addition to the core ViziT solutions SML is partnering with TAGSYS and Nedap Retail to offer a complete 'one stop shop' for all RFID hardware and systems solutions which are required to gather and manage the data throughout the retail store and logistics operations.
"SML has noted the recent statements from companies such as JC Penney, Macy's, Walmart and Gerry Weber, who all state that they intend to expand or introduce RFID item tracking to their store operations," says Philip Calderbank, SML VP Global RFID. "As one of the world's premier producers of garment labels, we felt it was time to introduce RFID into the SML product range. ViziT provides complete item level visibility by offering a full selection of RFID enabled labels and stickers. However, in our opinion, the management of the serial numbers is of equal importance to the overall success of any RFID system. So we decided to develop a total data management solution. Through this ViziT IT Cloud, we offer a simple solution for encoding and printing the labels in our global Service Bureau's. ViziT IT also enables both garment vendors and retail store operations to maintain visibility of newly tagged items, through an easy to use web based system. Finally, we decided to partner with TAGSYS and Nedap Retail. Through these alliances we offer a complete and global one stop shop of RFID labels, EPC serial encoding, cloud based data management, plus RFID hand held and fixed readers, in-store middleware, and combination RFID/EAS readers for item loss prevention."
"We are pleased to be able to offer our total RFID solutions to SML Group's retail and apparel customers," says Alain Fanet, CEO of TAGSYS. "This partnership with SML is further recognition of our commitment to provide brands and retailers with complete, easy to deploy RFID systems over the Cloud that provide a rapid return on investment at a minimal cost to end users."
According to Rob Schuurman, Director of Nedap Retail, "The alliance with SML combined with ViziT provides an excellent opportunity for Nedap Retail to offer Nedap Store !D within a total solutions approach. Store !D is Nedap Retail's new unique RFID product offering especially designed for fashion stores."
About SML Group Ltd.
SML is a global total brand identification solutions provider serving an international clientele consisting of top fashion brands and some of the largest retailers in the world. Its wide range of high quality products include woven labels, printed fabric labels, EAS, RFID, heat transfers, packaging, specialty trims, printed paper products, etc. With presence in over 30 countries and wholly-owned manufacturing facilities around the world, it is committed to effectively and efficiently serving the worldwide needs of clients and exceeding their expectations in quality, price, service and speed.
The SML ViziT brand provides for RFID item visibility with EAS type loss prevention and includes for RFID enabled labels/ticket/hang tags, along with EPC serial number chip encoding which is provided through a network of globally located Service Bureau's. A cloud based IT data management solution completes the ViziT package.
About TAGSYS
TAGSYS provides complete, reliable, high performance RFID infrastructure systems for item-level tracking in a variety of industries. Our unique RFID expertise, combined with a true understanding of RFID business processes, make us the ideal RFID partner to ease and ensure the success of your project. With a proven track record of delivering reliable, high performance production systems, TAGSYS has deployed RFID systems to over 500 customers in more than 40 countries. More information on TAGSYS can be found at www.tagsysrfid.com.
About Nedap Retail
Nedap Retail develops and supplies innovative and sustainable solutions to manage and secure retail stores. For over 30 years Nedap has been a pioneer in retail, first reinventing anti-theft systems for department stores. Today Nedap Retail is leading the innovation wave in retail with its anti-theft systems, store automation systems, stock control systems, and customer experience ideas. Nedap is a manufacturer of intelligent technological solutions for relevant themes; Nedap Retail is one of Nedap's business units. Nedap was established in 1929, has been listed on the stock exchange since 1947 and is active around the world. For more information, please visit www.nedap-retail.com.
###
Remarks:
* Service Bureau – is a platform which provides business service for a fee. Customers of service bureaus typically do not have the scale or expertise to incorporate these services in their internal operations and prefer to outsource them to a service bureau. With Global ViziT Service Bureau, the customer only need to place order on-line, then SML will handle the rest of issues.
Contact
SML Group Limited
Florence Lo
+1 212 736 8800 (NY) / +852 2699-8082 (HK)
www.sml.com

Contact