Montlick & Associates, Georgia Accident Attorneys, Named Most Patriotic Business of 2011 by the Association of the United States Army
The Association of the United States Army has recognized Montlick & Associates as the recipient of its 2011 "Most Patriotic Business Award" in recognition of the firm's extensive ongoing efforts to support our troops.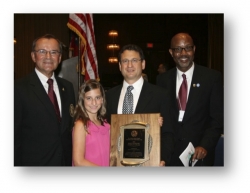 Atlanta, GA, January 20, 2012 --(
PR.com
)-- The Greater Atlanta Chapter of the Association of the United States Army recognized Montlick and Associates, Georgia Personal Injury Attorneys, as the recipient of the 2011 Most Patriotic Business Award.
"You cannot ignore the many acts of service to Soldiers and military families that Montlick and Associates has provided over the years," said President and Colonel (Retired) Charles Guta. "Patriotic media messages, direct awards of vacation relief to military families, and legal support to our Veterans; Montlick and Associates has made the military an integral part of their corporate responsibility program and we must recognize that fact positively."
"No business has ever done more for the troops in Georgia than Montlick and Associates," said Dr. Duane Williams, First Vice President of the Association.
"At Montlick and Associates, our Tribute to the Troops programs are all about honoring the military, and expressing our gratitude to the troops and their families for the enormous sacrifices they make to protect our freedom," said Founder and CEO David Montlick. "My team and I are very grateful for this award. To all our service men and women- You are true heroes. We Salute you. We Thank You."
To learn more about all of Montlick & Associates ongoing efforts to support our troops visit montlick.com/TributetoTroops. There you will find military tributes that are aired on television throughout the year, including special tributes for Memorial Day, July 4th, and Veteran's Day, as well as the firm's annual "Most Deserving Military Family Contest." And you can also watch the two minute ABC news segment recognizing the firm and its efforts.
Montlick & Associates is a well respected personal injury law firm that has been helping people get the compensation they deserve since 1984. The firm has a long history of community service. In addition to its extensive efforts to support our Troops and their families, the firm has extensive injury prevention programs that it started for 25 years ago. One of its most recent programs features two minute news segments in Atlanta in which the firm's family safety advocate presents important tips and downloadable materials to help keep your family safe. For more information and to watch the videos, visit montlick.com/familysafety.
Headquartered in Atlanta, Montlick & Associates provides legal representation throughout Georgia and the Southeast. The firm is dedicated to its goal of providing exceptional service and being the best accident law firm in Georgia, and handles all types of cases involving personal injuries including: auto, truck and motorcycle accidents; workers' compensation and job injuries; and injuries caused by dangerous and defective products. For a full list of practice areas, visit the firm's website. No matter where you are, Montlick & Associates is just a phone call away and will even come to you. For more information or your free consultation, call 1-800-LAW-NEED (1-800-529-6333) 24 hours a day/7 days a week, visit
www.montlick.com
or use the firm's Free 24 Live Online Chat at montlick.com.
###
Contact
Montlick & Associates, Attorneys at Law
Victoria Van Leight
404-529-6333 x357
www.montlick.com

Contact