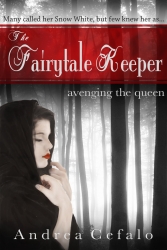 Greenville, SC, May 25, 2012 --(
PR.com
)-- Greenville, SC, author Andrea Cefalo will be signing copies of her debut young adult novel, The Fairytale Keeper: Avenging the Queen (Scarlet Primrose Press, paperback, $11.99), at Mr. K's on Saturday, June 2nd, from 11am-2pm, Fiction Addiction on Friday, June 8th, from 4-6pm, and The Book Store in Laurens on Thursday, June 7th, from 3-5pm.
Snow White was a pet name her mother had given her, but her mother's dead now. Adelaide hates that name anyway. A rampant fever claimed Adelaide's mother just like thousands of others in Cologne, where the people die without Last Rites and the dead are dumped in a large pit outside the city walls. Adelaide's father is determined to obtain a funeral for his wife, but that requires bribing the parish priest, Father Soren. When Soren commits an unforgivable atrocity, he pushes Adelaide to her breaking point, but if she seeks justice against the cruel priest, she risks sacrificing everything: her father, her friends, her first love, and maybe even her life.
Andrea Cefalo once dreamed of a career in art restoration, but somehow ended up becoming a grade school teacher before realizing that she really wanted to be a writer. She taught for three years and then decided to finish the Fairytale Keeper series and pursue her new found ambition. Andrea lives with her husband and two border collies in Greenville, South Carolina. The Fairytale Keeper: Avenging the Queen is the first book in the Fairytale Keeper series.
If you cannot make the signings, you can purchase a copy of The Fairytale Keeper: Avenging the Queen at Fiction Addiction, Mr. K's, Amazon.com, and Smashwords.com. It will soon be available through Apple, Barnes and Noble, Sony Reader, Diesel Ebook Store, and Kobo.