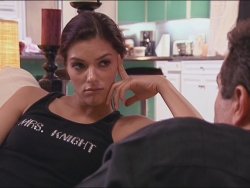 New York, NY, November 07, 2005 --(
PR.com
)-- After meeting Brady Bunch alumni, Christopher Knight, her fellow cast member on VH-1's "The Surreal Life," model Adrianne Curry logged on to www.MySuperSexy.com and purchased herself a black tank top with the words "Mrs. Knight" written in clear Swarovski crystals, designed by Anna Pereira of Super Sexy, LLC. Shortly thereafter, Adrianne Curry and Christopher Knight got their own VH-1 spin-off series; "My Fair Brady." Much of the theme of "My Fair Brady" was Adrianne's strong desire and campaigning to get Christopher Knight to propose marriage and for her to become engaged, with the end goal of becoming Mrs. Christopher Knight!
Throughout the television series and through Adrianne and Christopher's many emotional discussions about marriage, Adrianne continued to express her wish by donning her Super Sexy custom Tank top, which shamelessly read "Mrs. Knight" in a unique text she selected and hand-applied Swarovski crystal rhinestones, for the world to see.
On last night's season finale of "My Fair Brady," Adrianne finally got her wish, when a tearful Christopher Knight got down on one knee and presented Adrianne Curry with a diamond engagement ring.
Super Sexy custom T-shirts stand for self-esteem, self-awareness, ambition and feeling sexy from within. Now, women can wear Super Sexy T-shirts to represent what they desire for their future. Whether you desire marriage like Adrianne, a better career, financial independence, fame, peace and tranquility or to master a certain skill, write it on a Super Sexy custom Tee and create your own self-fulfilling prophecy. Some examples:
"Self Made Millionaire"
"Superstar in the Making"
"Malibu Beach Bum"
"Zen is Super Sexy"
"Fashion Designer"
"Super Sexy Lawyer"
Be what you desire by spelling it out in airbrush painted phrasing with Swarovski crystal embellished letters. Wear it, believe it, become it! This is part of the Super Sexy philosophy.
For more information, visit www.MySuperSexy.com and make your wish!
For Media Inquiries Contact
Allison Kugel
Allison Dawn PR
Tel: 516-942-0264
Email: AllisonDawnPR@aol.com
###