Minnesota Pizza Champion Does Well at the World Pizza Games in Las Vegas, NV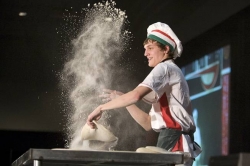 Oakdale, MN, March 20, 2012 --(
PR.com
)-- Randy Hueffmeier of Randy's Premier Pizza along with Pizza Spinning protégé Nicholas Diesslin were at the World Pizza Games in Las Vegas, NV this past week. Randy, an International award winning Pizza Maker and Pizza Spinner, along with Nicholas Diesslin competed in 4 World Pizza Games Events along with the International Pizza Challenge against other competitors from all over the world. They did really well this year winding up at the Finals in 3 of the 4 competitions. Randy got a 4th in the World in the Largest Stretch competition 3rd in the Worlds Fastest Pizza Maker competition (the Worlds Fastest American Pizza Maker)and 2nd Best Pizza in the North West Region of the country and 6th best in the world over all in the traditional Pizza category, losing out only by a half of point to the Best Pizza In the country in the Traditional category. Nicholas Diesslin received a silver medal in the finals of The Pizza Acrobatic competition in one of the most competitive years that they have seen in many years at the games, Nicks looking forward to becoming a World champion. Nicks only been competing for about three years and is already considered one of the best pizza acrobats in the world.
Next up for Hueffmeier and Diesslin is a Trip to Naples Italy the birth place of pizza to compete in the World Pizza Championship in Italy Later in May of this year.
About the Randy's Premier Pizza: Randy's Premier Pizza was founded in Oakdale Minnesota, 1986. Randy's Premier Pizza started out as the original Pizza Man, then was changed to Randy's Pizza Man in 1990, then Randy's Pizza in 1994, then Finally Premier Pizza in 1999. Randy's Premier Pizza is the originator of the 30"36" & 48" Super Party Pizzas! Randy's Premier Pizza has won numerous awards:
Pizza Person of the Year 1993, Pizza Pace – Setter, International Pizza of the Year 1993.
Pizzaahalympic Gold Medal Winner, International Pizza Spinning Champion.
Randy's Premier Pizza was founded by Randy Hueffmeier of North Saint Paul, Minnesota. Randy has traveled extensively all over the world creating and perfecting his product.
For more info contact Randy Hueffmeier randy@premierpizza.com 651-777-4848.
www.premierpizza.com
Contact
Randys Premier Pizza
Randy Hueffmeier
651-777-4848
www.premierpizza.com

Contact