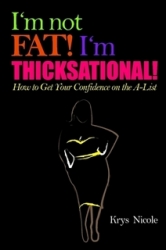 Los Angeles, CA, March 27, 2012 --(
PR.com
)-- So many people want to assume what the plus-sized community goes through but have never walked a mile in their shoes. Many teenagers and young adults are being bullied about their weight and facing more struggles to fit into the unrealistic images seen in the media. Finally there is a guide that focuses on how to deal with the pressures regarding weight and other everyday struggles. I'm Not Fat! I'm Thicksational! is a guide that gives you the experiences of a plus-size girl and inspiration on how to learn from your past, grow in the present and become Thicksational for your future.
This manual is for every woman and girl who has been called fat or any other derogatory name regarding their weight. You will learn how to shine through adversity. From now on you will correct someone if they ever call you fat again.
I'm Not Fat! I'm Thicksational! can be purchased exclusively at Lulu.com
On the Author – Krys Nicole:
Krys Nicole is an author, blogger, and screenwriter. She is the owner, founder, and head writer of Thicksational.com; a celebrity focused blog dedicated to plus sized women. Krys gives readers a dose of humor, sarcasm and reality while introducing the latest news and everyday topics.
Press Contact:
info@thicksational.com
(404) 315-9922