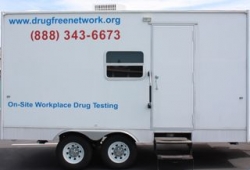 Fontana, CA, April 13, 2012 --(
PR.com
)-- H & S Business Services, LLC. announced today that their Mobile Drug Test Laboratory business is growing rapidly. There are a number of businesses and schools who have seen the increase in employee productivity by having H&S Business Services come on-site to service the drug testing and background check needs.
There is no need to send your employees off site to a collection center where they may wait for hours to be seen, H&S comes to you! Their mobile laboratory is self-contained with its own power generator, water supplies, and everything needed to spend as much time as needed in the field where it belongs. Pictures and more detailed information about our drug test laboratory can be found at www.mobiledrugtestlab.com.
H&S Business Services has always been at the forefront of on-site service. They specialize in policy development, training, and human resource management. Their new mobile laboratory increases their ability to service their clients at their place of business like no other drug testing company out there.
H&S Business Services will serve the large and growing base of concerned and proactive companies and schools who, in an effort to ensure that their employees and students remain in a healthy, drug-free environment, are turning to the validation and peace of mind that drug testing can provide as a deterrent.
H&S Business Services also believes that, "The statistical evidence documenting the escalation of drug use in our society is staggering. Studies demonstrate that employee drug testing can play an important role in reducing drug abuse among our employees and ultimately saving the company thousands of dollars in workers comp, unemployment, and lawsuits. We believe that drug testing is a valuable deterrent tool in the war against drugs. After all, a company is only as good as its employees…why not hire and keep the best!" states Mr. Lux, Sales Director for H&S Business Services, LLC.
Mr. Lux added, "I am both pleased and proud to be part of the solution and have the opportunity to play a meaningful role in the anti-drug effort. This timely program gives our clients the control to definitively identify drug use, and to then seek the vital counseling and treatment needed for their employees."
Mr. Lux and H&S Business Services are available to address educational, civic and other groups on the topics of drug/ substance abuse and the myriad of treatments, assistance and government agencies available to the public.
Based in the Inland Empire, H & S Business Services, LLC. is the creator of a unique programs and products designed to address the growing field of drug testing both at home and in the workplace. For more information on H&S Business Services visit our website at www.drugfreenetwork.org or call us at (888) 343-6673 toll free. For detailed information on the mobile laboratory and on-site services, please visit www.mobiledrugtestlab.com.