Sarasota Memorial Hospital (Fla.) Among 15 Independents Named Among Nation's 100 Top Hospitals
Sarasota Memorial Hospital was named among Thomson Reuters 100 Top Hospitals® based on its superior clinical outcomes and overall operational performance. The public hospital in southwest Florida is one of only 15 independent institutions to make the list, and one of 12 to earn Thomson's Everest Award for best and fastest long-term improvement.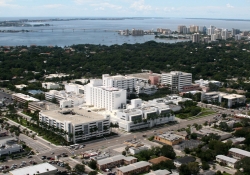 Sarasota, FL, April 17, 2012 --(
PR.com
)-- Sarasota Memorial Hospital was named among Thomson Reuters 100 Top Hospitals® based on its superior clinical outcomes and overall operational performance.
To be named one of the 100 Top Hospitals in the nation is a unique honor, because the study takes into account all aspects of organizational performance, including patient care, efficiency and financial stability. The annual benchmark study evaluates 10 measures of hospital performance: mortality, medical complications, patient safety, average patient stay, expenses, profitability, patient satisfaction, adherence to clinical standards of care, post-discharge mortality, and readmission rates for heart attack, heart failure and pneumonia.
The results are based on independent public information – Medicare cost reports, Medicare Provider Analysis and Review (MedPAR) data, and core measures and patient satisfaction data from the Centers for Medicare and Medicaid Services (CMS) Hospital Compare website. Hospitals cannot apply or purchase the recognition; neither can they opt out of the study.
Sarasota Memorial, named to the list for the second time, was one of just 15 independent hospitals to make the top 100 list, and one of only 12 across the nation to earn Thomson's Everest Award, which goes to hospitals exhibiting top current organization-wide performance as well as the fastest long-term performance improvement. The winners were announced in today's issue of Modern Healthcare magazine, and the publication singled out Sarasota Memorial along with Scripps Green Hospital, La Jolla, Calif., and Baylor University Medical Center at Dallas.
"Receiving such a prominent award is an honor – only 100 hospitals, less than 2 percent – make this prestigious list. It's truly a testament to the dedication and outstanding performance of not only the doctors and nurses caring for our patients, but also the many clinicians and non-clinical staff who support that care," said Sarasota Memorial Health Care System President & CEO Gwen MacKenzie.
The Thomson study compared nearly 3,000 U.S. hospitals treating a broad spectrum of patients. The hospitals are compared to peers of similar size, and winners are listed in five categories: two groups of teaching hospitals and three groups of community hospitals based on size/bed count. Sarasota Memorial was compared to large community hospitals (250 or more beds).
According to Thomson, the 12 hospitals that won the Everest Award "are a special group of 100 Top Hospitals award-winners that in addition to achieving benchmark status for one year, have simultaneously set national benchmarks for the fastest long-term (five-year) improvement ... based on a set of measures that reflect highly effective performance across the entire organization."
According to the latest study, if all Medicare inpatients received the same level of care as those treated in the award-winning facilities:
--More than 186,000 additional lives would be saved each year. Top 100 winners have 5 percent fewer deaths than expected, while non-winning peer hospitals had only 1 percent fewer deaths than expected.
--Approximately 56,000 patients could be complication-free. Again, 100 top hospitals had 5 percent fewer complications than expected, compared to 1 percent of peer hospitals not on the list.
--More than $4.3 billion could be saved. The typical winning hospital charges $464 less per discharge than non-winners. In fact, of all the hospital comparison groups, ours -- large community hospitals -- had the lowest expenses and outperformed peers by one of the widest margins.
--The average patient stay would decrease by half a day.
If the same standards were applied to all inpatients, the impact would be even greater, said Jean Chenoweth, senior vice president for performance improvement and 100 Top Hospitals program at Thomson Reuters.
More information on this study and other 100 Top Hospitals research is available at: www.100tophospitals.com
About Sarasota Memorial:
Sarasota Memorial Health Care System is a regional referral center offering Southwest Florida's greatest breadth and depth of inpatient, outpatient and extended care services, with more than 800,000 patient visits a year. Sarasota Memorial's 806-bed acute care hospital has been recognized repeatedly as one of the nation's largest, safest and best, with superior patient outcomes and a complete continuum of outpatient services– from urgent care centers and physician groups, laboratory and diagnostic imaging centers, to home health and skilled nursing & rehabilitation. For information, visit:
www.smh.com
Contact
Sarasota Memorial Health Care System
Kim Savage
(941) 917-6271
www.smh.com

Contact