Startup Localbonus Helps Local Businesses by Creating a Universal Loyalty Program
Startup LocalBonus lets its users use their existing credit or debit cards as their loyalty card at local businesses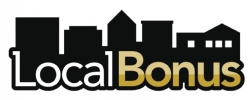 New York, NY, April 24, 2012 --(
PR.com
)-- LocalBonus, the New York-based startup, is announcing today that it is expanding to 5 cities with a network of over 800 merchants. The service allows consumers to use their existing credit or debit card as their loyalty card at local businesses. LocalBonus members automatically earn rewards points by shopping at LocalBonus merchants, and save up those points to redeem for up to 10% cash back rewards. Based on the success of their New York beta test, they have decided to expand to 4 new cities today – Seattle, Portland, Sacramento, and Denver.
"LocalBonus is helping local businesses score new and repeating customers. We are taking the credit card and turning it into a loyalty card," said Derek Webster, Founder and CEO of LocalBonus. "Local businesses need customer loyalty but there has yet to be a successful loyalty program that works for local businesses. LocalBonus is using the game mechanics made popular by frequent flyer programs to promote and ensure loyalty at local business."
By letting consumers use their existing credit or debit cards, consumers no longer need to carry around a wallet full of "punch cards" and can pool their earnings across businesses with a common currency to earn rewards faster. They also "close the loop" for merchants by automatically tying rewards to real purchases.
Additionally, the company is announcing today that it has raised over $500,000 in seed funding from Payment Ventures, Entrepreneurs Roundtable Accelerator, and other angels.
Key features of LocalBonus include:
· Membership is 100% free to consumers
· Rewards points are automatically awarded just by paying with your existing credit or debit card – no need to carry a special card or remember to "check in" every time.
· Earn universal currency across all merchants
· 800 merchants, 5 different cities – New York, Sacramento, Portland, Seattle, Denver
· The LocalBonus Wolfpack – if 5 or more members shop at a merchant on any given day, members will earn double points at that merchant
· Rewards start at just 4,000 points ($10 LocalBonus Cash)
About LocalBonus
LocalBonus allows consumers to use their existing credit & debit cards to automatically earn cash back rewards at local businesses. Consumers connect their existing cards to LocalBonus once, and automatically earn points towards cash back rewards with every purchase at over 800 different merchants. Participating merchants get an easy way to attract and retain customers without having to offer deals or discounts, no POS integration, and no employee training. They are headquartered in New York City, with merchants in Denver, New York City, Portland, Sacramento, and Seattle. For more information on LocalBonus, contact info@localbonus.com or visit
localbonus.com
.
Contact
LocalBonus
Manuela Odell
917-340-2707
https://localbonus.com

Contact