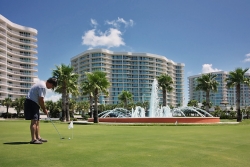 Orange Beach, AL, May 10, 2012 --(
PR.com
)-- Caribe Resort in Orange Beach, Alabama, has been voted "Best Family Fun Resort" in the Southeast by Convention South Magazine for 2012. The magazine asked meeting planners, convention organizers and business meeting coordinators to choose from a list of twelve famous southeastern resorts that they considered the most family fun. The list included the Swan and Dolphin at Disney, the Great Wolf Lodge in Texas, Wilderness Waterpark Resort in Tennessee and eight other locations.
Caribe Resort recently upgraded their amenities to include a new five-star waterfront restaurant, "Cobalt", and marina, "Outcast", which has jet ski rentals and parasailing. Mix all of that with the already existing poolside deli, gift shop, floating docks, spacious rental units, large waterfront balconies. Throw in over 40,000 square feet of pools, lazy river and water slides, and one can clearly understand how they achieved the award.
Caribe Resort was already well known to southern and midwest travelers for the spacious thirty or more acres of beach and water fun. Their luxury condominiums have long been ranked as some of the most desired along the Gulf Coast. With the new amenities Caribe Resort has been on a quest to appeal to new guests and new groups.
Cobalt Restaurant is the creation of Larry Wireman, the developer of Caribe Resort. His unique style has created an amphitheater view for all the diners of the picturesque waterfront and beautiful sunsets on the bay. The cuisine at Cobalt includes everything from timely aged steaks to local fresh seafood. For the deepest of seafood lovers there is a special oyster bar featuring fresh oysters prepared so many ways they should have their own menu.
Outcast Marina located next to the resort is another recent addition. The new facility allows the Caribe guest to enjoy charter fishing, jet ski rentals, boat rentals and even parasailing. Best of all, the guests of Caribe get to leave from the docks located at the resort. Outcast provides group deep sea fishing trips or private charters. Their boat rentals include pontoon, center consoles or bay style skiffs.
Then there are the pools. Lots of pools. With over 40,000 square feet of swimming pools, slides and a lazy river even Aquaman could be satisfied. Each of the three main condominium towers has an indoor pool for the occasional shower. However, it is the outdoor pools that really make a splash. Water slides are available for the guest who wants a thrill and zero-entry areas are around for those who like to slowly slip away. Throw in the pool-side deli and gift shop and you can see that it might be a while before you return to the condominium.
Comfort is an understatement when describing the luxury condos. All are equipped with state-of-the-art kitchens and over-sized water front balconies. Then come the large bedrooms and never forgotten spacious bathrooms featuring real Jacuzzi tubs and a walk-in glass shower.
If you need to take a break from all the fun, lush tropical grounds provide a relaxing setting. Caribe Resort has taken special care to provide a beautiful location with natural plants and lush gardens worthy of such a site. Add the large vibrant water fountain and putting greens just as icing on the cake.
Truly an award winning resort. Caribe Resort is located on a white sand peninsula in Orange Beach, Alabama. You can contact the resort at (888) 607-7020 or visit their website at www.cariberesort.com.