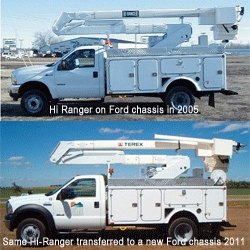 Waukesha, WI, May 17, 2012 --(
PR.com
)-- Waukesha based DUECO, Inc., the largest privately owned provider of Terex Hi-Ranger bucket trucks and Terex Telelect digger derricks in the country, can extend the life of equipment by marrying up a new or gently used chassis with a new or gently used attachment. Such transfers, performed by DUECO expert service teams across the country, can provide savings of 35-40% over buying new and are ideal when:
· A tower has relatively low hours of utilization on a high mileage chassis that has become expensive to maintain or is past its useful life.
· A chassis is in good shape, but the tower has become expensive to maintain.
With today's tight budgets and pressure to maximize the utilization of every piece of equipment, transferring or retrofitting equipment from one vehicle to another is more viable than ever. DUECO can help prolong digger derrick or bucket truck life cycle while also upgrading to newer technology at a fraction of the cost compared to purchasing a new unit.
DUECO can transfer a used or new tower to a used or new chassis. It can also source an aerial, derrick or chassis, and add new features like LED lighting to improve equipment productivity and operator safety. DUECO's experienced, factory trained and Fluid Power Certified technicians perform all transfers using OEM parts.
DUECO Inc. President, Judie Taylor commented, "Our team has a passion for taking care of customers to Make A Difference in their operations. A 'Transfer' can truly make an immediate difference for a customer, bringing greater productivity to the fleet and extending the usefulness of the equipment investment, while reducing maintenance costs associated with older, worn equipment."
For more information on the specifics of Transfers, please see
http://dueco.com/service-and-training/service/transfers.html
or contact your DUECO representative today.
About DUECO, Inc.
DUECO is the largest provider of Terex bucket trucks, digger derricks, and cranes for the utility market in the nation. DUECO also manufactures hybrid utility trucks and custom utility truck bodies and distributes mini derricks, aerial lifts, stringing equipment and trailers. Family owned and operated since 1955, DUECO's philosophy of teamwork, integrity, and open communication with customers and employees ensures high quality equipment at the best value. With headquarters in the Metro Milwaukee area, DUECO services customers 24/7 in fifteen states. To learn more about DUECO and what the company can offer, please call us at 800-558-4004 or visit us on the web at dueco.com.