evREwares® Announces Launch of Novelty Stick-on Ties at Urban Outfitters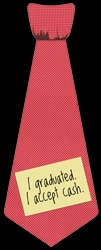 Raleigh, NC, May 19, 2012 --(
PR.com
)-- evREwares®, a woman-owned company founded by two moms, today announced the launch of "Big Guy Sticky Ties" at Urban Outfitters across the country and online.
A selection of Big Guy Sticky Ties, including the timely "I Graduated. I Accept Cash" tie, is now available to purchase both in-store and online at Urban Outfitters. Founded in 1970, Urban Outfitters operates more than 130 stores in the US, Canada and Europe, all offering an eclectic mix of merchandise geared to the urban-minded individual.
"We couldn't think of a better retailer to carry our novelty stick-on ties than Urban Outfitters," said national sales director, Ellie Brown. "Sticky Ties are the perfect impulse buy for the 18-30 year old man. Greeting cards end up in the trash, a giftable stick-on tie ends up on a shirt."
A wide variety of Big Guy Sticky Ties can be found at www.evREwares.com. Ties give nods to voting, beer, grilling, graduating, golf and much more, including the "Tailgate Formal" line.
evREwares® was created out of a pure passion for art, innovation, and fun. Company co-founders Jennifer Pittman and Becca Nelson have used a patented fabric sticker to create a whole line of reusable and wearable "Sticky" products. Current products include Sticky Ties, Sticky Bow Ties, StickyPockets, Sticky Drink Labels, and Sticky Locker Decor. All products are made from a nontoxic, environmentally-friendly, woven polyester that will not tear. evREwares® products will stick virtually anywhere without leaving a sticky residue.
With combined experiences in design, photography, film, and advertising, (and a stint as Miss Tennessee USA), Pittman and Nelson launched evREwares® in 2010, and the products were quickly noticed and picked up by specialty boutiques and retailers across 5 continents. Additionally, evREwares® products have recently received nominations for "Best New Product" at the National Stationary Show in New York City as well as being dubbed "The Next Big Zing" in the children's category by innovative product professional, Dhana Cohen, of Chicago.
Full product lines can be viewed online at www.evREwares.com.
Contact:
Ellie Brown, Director of Sales
317.340.0344
Contact
evREwares
Ellie Brown
317.340.0344
evREwares.com

Contact