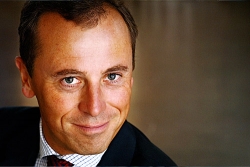 Los Angeles, CA, June 08, 2007 --(
PR.com
)-- Marc Appleby is delighted to announce a new partnership with the boutique publicity firm, 1st Xposure Worldwide, due to their forward-thinking, creative and successful publicity and marketing campaigns. Currently studying with Margie Haber, and represented by Coast-to-Coast Commercial Talent and the Ann Soussi Theatrical Agency, Marc has been diligently putting together a first class team of representatives.
A former investment banker and now an active working actor, Marc is currently appearing as Admiral Christopher Newport in ABC Family Channel's First Landing. Marc retired from investment banking in 2002 to pursue acting and in 2003 graduated with a Masters in Acting (MFA) from London's top conservatory drama school, the Academy of Live and Recorded Arts. Marc's success in the with several feature films and BBC television productions prompted him to move to Los Angeles where his success has continued at an extraordinary rate. With starring roles in shows on FOX, HBO/Cinemax and the History Channel, as well as roles in several additional feature films, Marc has proven his talent and commitment to the craft of acting.
For more information about Marc Appleby, please visit his official website, www.marcappleby.com.
About 1st Xposure Worldwide:
Their mission: "Shining light on products, people and projects that uplift, empower, and entertain." www.1stxww.com
1st Xposure Worldwide is an active and rapidly expanding public relations and marketing firm based in Sherman Oaks, CA. Through the leadership of its Founder, Christina Lemon, a diverse and talented circle of support takes action to make tangible the vision, goals and objectives of their eclectic client base.
###