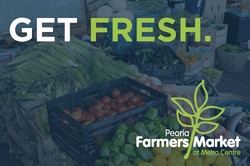 Peoria, IL, June 02, 2012 --(
PR.com
)-- Celebrating its 35th anniversary the Peoria Farmer's Market returns to Metro Centre starting this Saturday June 2, 2012.
The Peoria Farmer's Market opens at 8:00 a.m. and runs until the fresh produce is sold out usually by early afternoon, 6 days a week, Monday through Saturday. Shoppers will find locally-grown fruits and vegetables, farm fresh products, pastas and the largest selection of organic and no-spray produce in the area. "If you like supporting local farmers and enjoy eating fresh, this is your kind of place," said Eric Brinker, Metro Centre's President.
The selections of available produce change weekly. As the summer progresses the varieties of fruits and vegetables offered will grow. Complete details of the Market's offerings can be found on the Metro Centre website a
www.shopmetrocentre.com
New to the Market this year, a select number of Farmers are now accepting major credit cards. In addition, FNS Food Stamps and WIC Farmers Market Nutrition Program Coupons (WIC FMNP) are accepted. "We believe everyone has the right to eat healthy locally grown produce and the Peoria Farmer's Market at Metro Centre makes fresh options even more accessible," said Jason Fuller, Metro Centre Property Manager.
About The Peoria Farmers Market
The Peoria Farmer's Market at the Metro Centre was founded in 1977 by community leader Marvin L. Goodman. It was his vision to promote healthy eating by bringing together consumers and farmers from across Central Illinois to a marketplace offering a wide variety of fresh, locally grown produce. Thirty-five years later his vision still holds true.
About Metro Centre
Metro Centre has been close to the heart of Peoria for more than 30 years. Our stores are still locally owned and it shows. Just look at the friendly faces behind the registers, the unique selection of stores and our commitment to good old-fashioned service. Metro Centre is the proud home of the Peoria Farmer's Market and the Peoria Susan G. Komen Race for the Cure. There's only one Metro Centre. Only in Peoria.