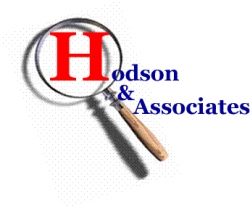 Fullerton, CA, June 14, 2007 --(
PR.com
)-- Are you having trouble fighting the feeling that your spouse is being unfaithful? Do you frequently second guess yourself, your feelings, or the situation? The truth is, many people have the feeling, at one time or another, their spouse has been unfaithful but generally brush their suspicions off as "nonsense" or "being paranoid." In order to help people understand these feelings, Hodson and Associates, a professional, private investigations firm based in Orange County, CA has comprised a list of the top 15 signs of infidelity based on thorough research and experience. Hodson and Associates has completed numerous, successful infidelity investigations, and in their professional experience, your spouse is cheating on you if…
1. You just feel something is going on. Trust your intuition.
2. There are noticeable changes in your sex life.
3. You catch them lying at times.
4. They have become distant at times.
5. There are periods of time where you cannot reach them.
6. They become increasingly more critical of you.
7. They delete all caller IDs from their phones.
8. They make changes to the way they look.
9. They are away more and saying they need more "alone time."
10. They need to work late (and/ or weekends) more and more.
11. Their phone bills are higher, and there are numbers you don't recognize.
12. Their phone rings at odd times.
13. They spend countless hours, usually late night, on the computer.
14. They keep cologne/perfume and sometimes a change of clothes in their car.
15. They may be hiding their cell phone or home phone bills.
Justin Hodson, founder of Hodson and Associates and licensed private investigator, has this to say about why it is important everyone is aware of these signs. "Many people have 'suspicions' of infidelity, but if they're aware of the actual signs that have been proven and researched, it can help them obtain peace of mind and possibly even get out of a bad situation."
Hodson and Associates is licensed by the State of California and the Department of Consumer Affairs to conduct private investigations in the State of California. Hodson and Associates employs top of the line private investigators, process servers, and researchers and was founded on the premise that it would provide the public with the highest integrity, professionalism, attention to detail and thoroughness as possible. Hodson and Associates has offices in Orange County and Los Angeles, as well as affiliate offices throughout the world.
To Contact Mr Justin Hodson call (877) 832-2388 or (714) 773-5345
###