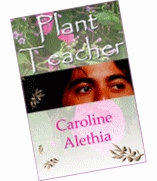 Washington, DC, DC, June 12, 2012 --(
PR.com
)-- It's been a good month for Caroline Alethia, author of the novel, Plant Teacher. Her book about Bolivia has earned recognitions at the Paris Book Festival, the Green Book Festival, and the International Book Awards. It's also been described as a "must-read" by Huffington Post Books reviewer, Joel Hirst.
"When I finished my final edits, I thought I'd achieved something good," says Alethia, a freelance writer who has worked as an international journalist and as an editor for the United Nations. "But it's hard to be objective about one's own work. These awards and accolades have been a wonderful confirmation."
Alethia lived in Bolivia from 2007 to 2008 when President Evo Morales was aggressively consolidating power. "There were riots, demonstrations and hunger strikes," says Alethia, "but at the same time, in a schizophrenic way, people tried to move forward as if life was normal."
The main characters in Plant Teacher, an assortment of Americans all drawn to Bolivia for different reasons, behave much as the everyday people Alethia encountered during her time in that tumultuous country. "My characters fall in and out of love, they go to work, they pursue their hobbies and obsessions, they frequent their favorite cafes, and they try to proceed as if life is normal — even as their host country drifts steadily toward authoritarianism."
For people who have other interests besides politics, Plant Teacher has a kicker plot that starts in 1975 when a hippie in Oakland flushes a syringe of LSD down a toilet in anticipation of a police raid. Thirty-five years later, the syringe has found its way to a swamp in Los Yungas, the umbilical cord between sprawling Amazonia and the towering Andes. There, this seemingly inanimate object will manage to control the destinies of Plant Teacher's main characters.
And, for those who are wondering, a "plant teacher" is an Amerindian term for a hallucinogenic plant believed to have spiritual properties. Those interested in reading this magnetic and thought-provoking novel can find it for free at Smashwords or for 99 cents on Kindle. It is also available in paperback from Amazon.
For more information or review copies contact Leslie Tandy, publicist, at info@plantteacherthebook.net.