CreAgri Receives International Recognition with Paris Polyphenols 2012 Award
CreAgri, Inchas been awarded the Paris Polyphenols 2012 Award for the most effective, innovative and sustainable process to recover healthy polyphenols from agricultural biomass.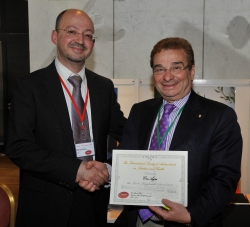 Hayward, CA, June 13, 2012 --(
PR.com
)-- CreAgri, Inc., has been awarded the Paris Polyphenols 2012 Award for the most effective, innovative and sustainable process to recover healthy polyphenols from agricultural biomass. "We need the industry to bring our ideas to fruition, to transform them from hypotheses and proofs of concept into products that can contribute to the solution of many of today's health, social and environmental problems," declared Dr. Marvin Edeas, chairman of the Scientific Committee of the International Society of Antioxidants in Nutrition and Health (ISANH), "while at the same time re-purposing biosolids produced by the agriculture industry."
"CreAgri's method is convincing, science based, innovative, elegant and produces a polyphenols formulation with powerful, healthy attributes. We've reviewed the science behind CreAgri's HIDROX®, the in vitro and in vivo studies, the clinical trials, the certifications—the care the company has put into creating a process and products that are natural, safe and environmentally sustainable—and we were impressed," continued Dr. Edeas.
Held in Paris, France, at the Palace Brongniart June 7-8, and organized by ISANH, Paris Polyphenols 2012 was the premier venue to discuss the latest clinical evidence supporting the use of polyphenols for health and wellness, and to further scientific knowledge in general regarding polyphenols derived from fruits and vegetables wastes. CreAgri contributed an abstract, "The Integrale™ Method: A Proprietary Process To Derive Healthy Nutraceuticals From Olive Milling Wastewater," which described The Integrale®, Creagri's patented zero-waste production method of deriving olive polyphenols from olive oil milling waste waters. The Integrale® is a tremendous step forward in resolving the environmental problem posed by the need to safely dispose of the biosolids produced by world's olive oil industry—a 1.4 billion gallon issue at the international level—while at the same time validating the nutraceutical power of the juice of olives, a concept unheard of before CreAgri invented The Integrale®.
The introduction of The Integrale® not only radically changed the way in which the industry looks at agriculture biosolids—transforming them from a liability into an asset—but also provides a way to produce industrial scale hydroxytyrosol, the molecule to which food experts credit the beneficial effects of the Mediterranean diet. Before CreAgri's entry into the field of olive polyphenols, producing hydroxytyrosol was costly, difficult and impossible to obtain without employing solvents or other synthetic extractive processes. Furthermore, even when synthesized, it could not be produced on a scale large enough to stimulate the introduction of consumer products which could leverage the anti-inflammatory power of olive polyphenols. Today, CreAgri formulates HIDROX® into Olivenol® plus, an award winning line of hydroxytyrosol-based dietary supplements, and Olivenol® plus Healing Moisturizer, a skin care product which brings the anti-inflammatory power of HIDROX® to customers around the globe.
"We're particularly proud of this award," stated Paolo Pontoniere, Vice-president of Corporate Communications and HIDROX Evangelist., "Besides validating our scientific and clinical research with HIDROX, it also recognizes the innovative advantages of our production process. We transform what was erroneously considered a waste byproduct into an elixir of health and wellness for consumers worldwide, while helping take better care of our planet. The Integrale, our proprietary industrial process, not only produces near zero-waste on its own, but reduces the existing waste stream by re-purposing agricultural biosolids for new and exciting applications for consumer health and wellness products."
About HIDROX®
HIDROX® is CreAgri's patented hydroxytyrosol-rich formulation of olive polyphenols produced from the juice of organic olives, and scientifically recognized for its anti-inflammatory and immune-modulating properties. HIDROX® is the only hydroxytyrosol formula with GRAS status. HIDROX® is also certified organic, Kosher and Halal, and is protected by the largest number of US and international patents and applications.
About CreAgri
CreAgri Inc., a California company, is the inventor and developer of HIDROX®. Its goal is to promote health and wellness by creating superior natural products that strike a Creative Balance Between Nature and Technology®. The company develops science-based processes that are environmentally friendly and compatible with sustainable agricultural methods. For further information about CreAgri and HIDROX®, please visit www.creagri.com.
About Paris Polyphenols
After the success of the 5 previous conferences on polyphenols applications, the International Society of Antioxidants in Nutrition and Health (ISANH) decided to organize the 6th world congress on Polyphenols Applications: Paris Polyphenols 2012, with two main topics:
Clinical Evidences 2012 and Polyphenols Valorisation from Fruits and Vegetables Waste
Held in June 7 & 8, 2012 Paris Polyphenols 2012 brought together experts from academia and industries to debate on the latest scientific advances in the field of polyphenols and their uses to improve human health. Polyphenols in human health have gained worldwide interest and the knowledge about the relationship between their consumption and health improvement is constantly growing. ISANH Scientific Committee believes that polyphenols will play a central role in the prevention of many chronic diseases.
Contact
Creagri, Inc.
Jessica Stair
510-732-6478
www.creagri.com

Contact