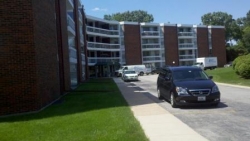 New York, NY, July 04, 2012 --(
PR.com
)-- The proceeds were used by the borrower, North Star Trust, for the repayment of existing debt and equity for future renovations at the facility. The mortgage had a 10 year fixed term, a 3.98% rate and a 30 year amortization schedule. Susan Butler, a principal at North Star Trust, looks forward to continuing to provide affordable housing in St. Charles, as they have over the last 43 years.
Surrey Hill Apartments, a Class A 118 unit residential complex, is located in the Chicago bedroom community of St. Charles, IL. The complex has studio, one & two bedroom apartments available and facility amenities which includes; balconies, picnic area, laundry and exercise facility. St. Charles is a Chicago suburb in the Kane and DuPage counties of Illinois and is roughly 40 miles (64 km) west of Chicago on Illinois Route 64.
According to a senior underwriter at Terrace Capital, "The Fannie Mae program generally provides the most advantageous rates for non-recourse, multifamily loans with rates on 5 year money, sub 55% LTV, as low as 2.82%. The program's underwriting criteria has generally become more conservative over the last few years, as Fannie Mae is under a US government conservatorship. On September 7, 2008, James Lockhart, director of the Federal Housing Finance Agency (FHFA), announced that Fannie Mae and Freddie Mac were being placed into conservatorship of the FHFA. Terrace has successfully executed on multifamily, non-recourse CMBS transactions, in states where Fannie and Freddie Mac have restricted loan-to-value ratios of 65%, these states include; Indiana, Florida, Michigan, Ohio and several MSAs in Texas, Georgia, Arizona, California, Louisiana and Nevada."
Terrace Capital focuses on non-recourse loans and preferred equity of $5MM and greater on income producing retail, office, industrial, multifamily, self-storage and hotel properties throughout the continental United States.
The Firm is a leader in structuring permanent mortgages and equity for a wide range of real estate transactions.
For more information about Terrace Capital and the services it provides, go to
www.terracecapital.com
.